I'm sure that the first thing many of us think about while pondering short shorts is how our legs look: is my skin too pale/uneven, have I exfoliated enough, or have my gams gotten enough exercise? Once we make it past those mental challenges, however, thoughts usually turn to style: how can I look chic rather than cheap in short shorts, and what is the best look for me?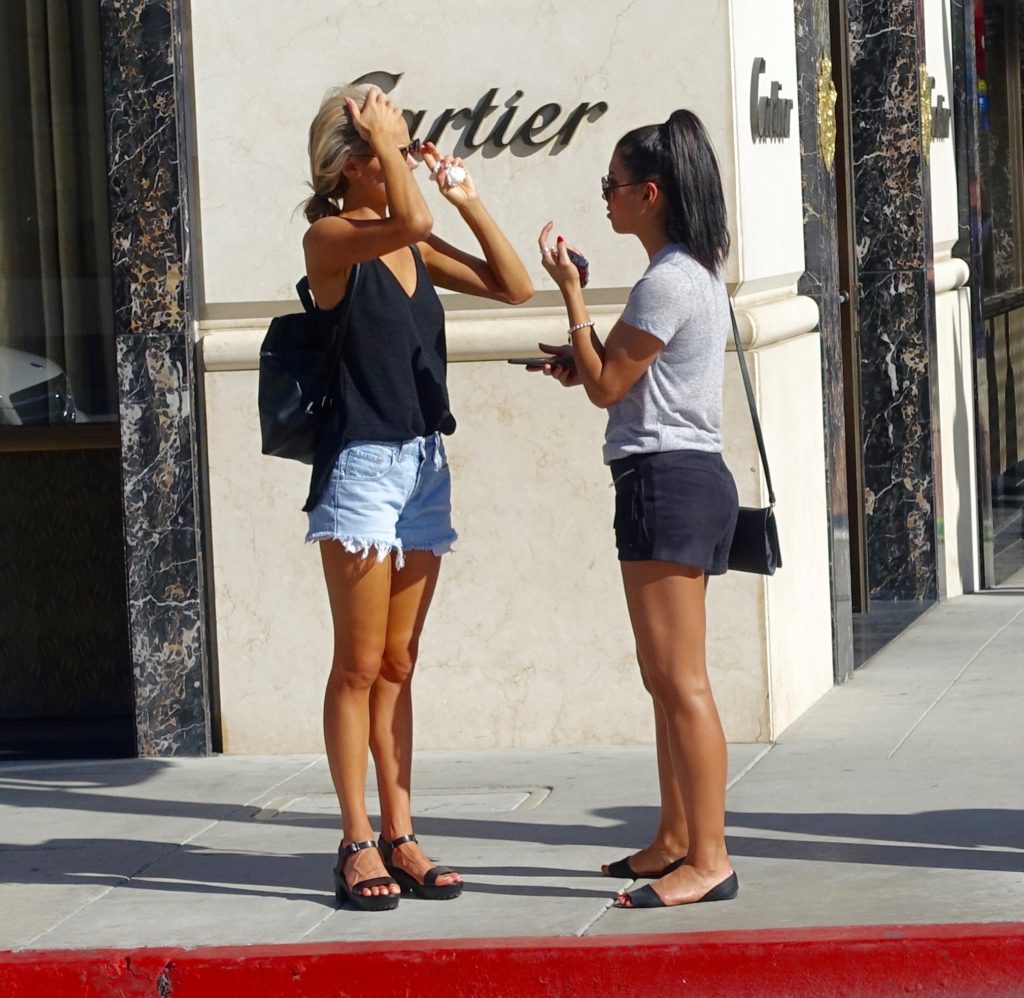 Even over forty, I will definitely wear short shorts. I don't believe that if a woman has relatively toned legs that age should be a factor in deciding whether or not to wear them. I do think, however, that there are times when short shorts look better than others. Observations in L.A. (short shorts mecca) recently gave me ideas on wear short shorts well – and not so well. Let's take a look!
Here are 13 looks – from casual to dressy – which inspired me to say to myself, "Yes!" "No!" or "Maybe."
1) Yes! – High-waisted shorts with a cropped top
I am always so excited to see a woman without super slender legs – more like my shape – looking great in something I would have never considered – like super short denim shorts.
If you are also pear-shaped, you might want to make a mental note here; notice how a high waistline draws attention to a small middle. Also, the (longish) cropped top in a hue close to that of the shorts creates a nice clean silhouette while minimalist footwear help promote a wonderfully long leg line.
2) Maybe – Although I love and advocate dressing sexy, there can be an inverse relationship between exposure and sophistication.
This isn't exactly a fashion/style rule, but I think that in order to look stylish while "hanging out" (pun intended) in public, a little subtlety goes a long way. With short shorts, I prefer more coverage on top. Of course, beach short shorts and cleavage are definitely called for at the beach. 😉
3) Yes! – Short shorts with an off-the-shoulder blouse with long sleeves is sexy and stylish!
I also do love the unexpected, like short shorts and booties.
4 & 5) No and Yes – A summerweight fringe sweater can be a cool way to dress up a shorts outfit.
Note: avoid wearing denim shorts that cut into your waist, especially with a clingy t-shirt, or else tummy bulge – as seen below to the left – can be an issue. One quick fix for this is a more structured top, like, for example, one with an empire waistline which flares out at the bottom.
For women with shapely legs, a wedge heel – as seen on the woman to the right – is usually very flattering with short shorts.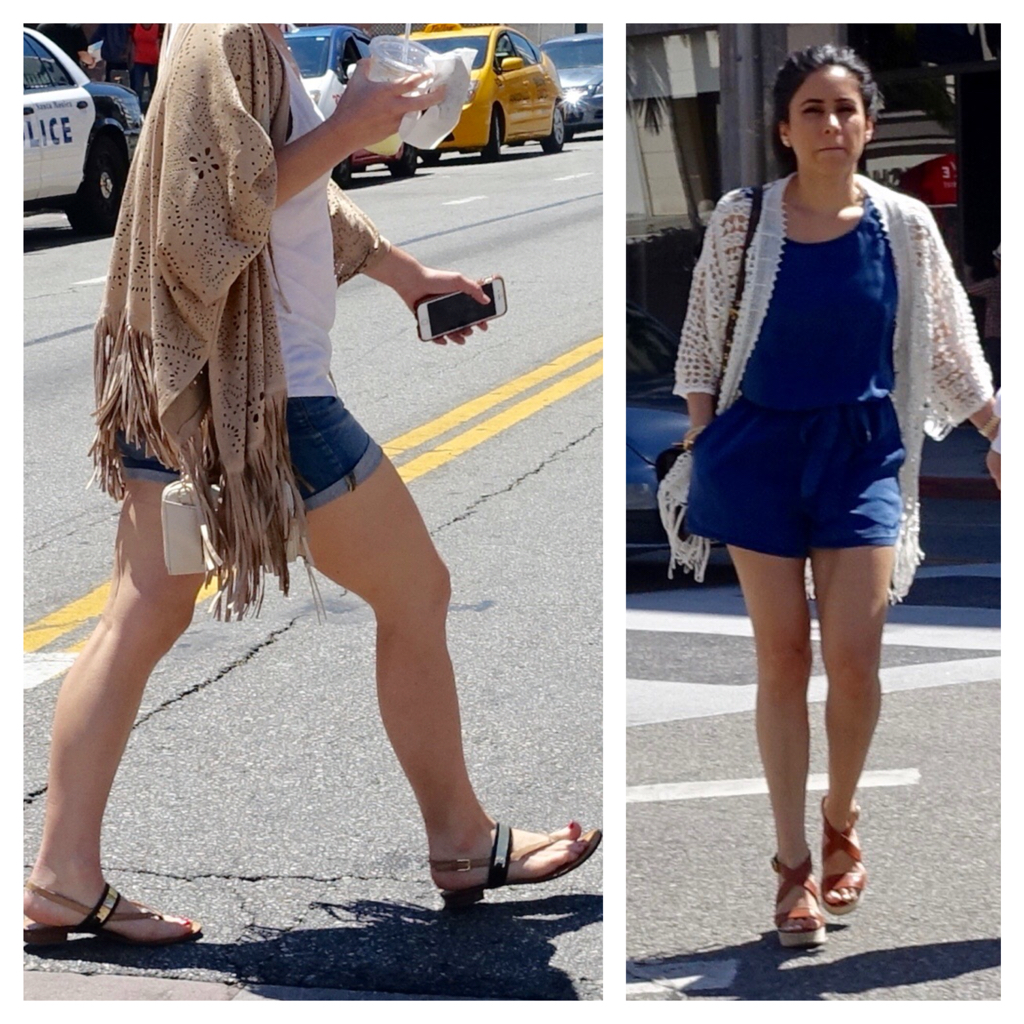 6) Maybe – Putting an edgy spin on short shorts creates an interesting look
These mauve shorts so closely match the tone of this woman's skin that they visually lengthen her legs. My only "however" is that such short shorts, you might want to have extra toned legs.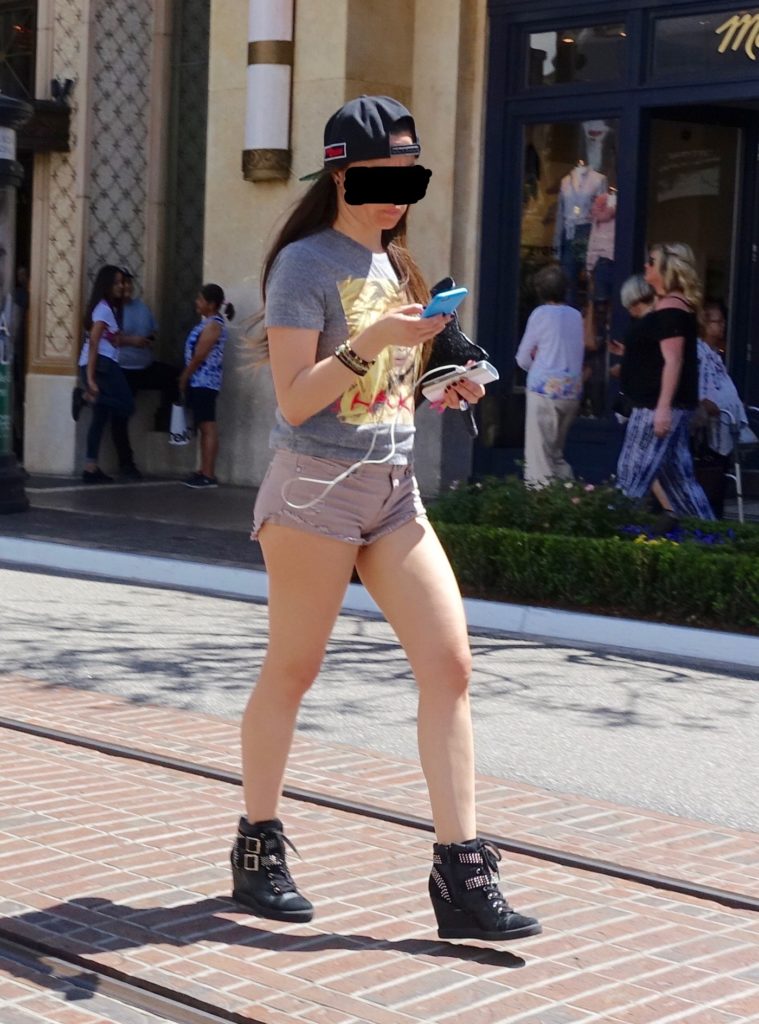 7) Yes! – I'll risk being called "tone-ist"; gorgeous gams make denim shorts with just a tee and sneakers look good.
Of course, this doesn't excuse poor choices with those latter items. Converse here are fun with a casual handbag and baseball cap.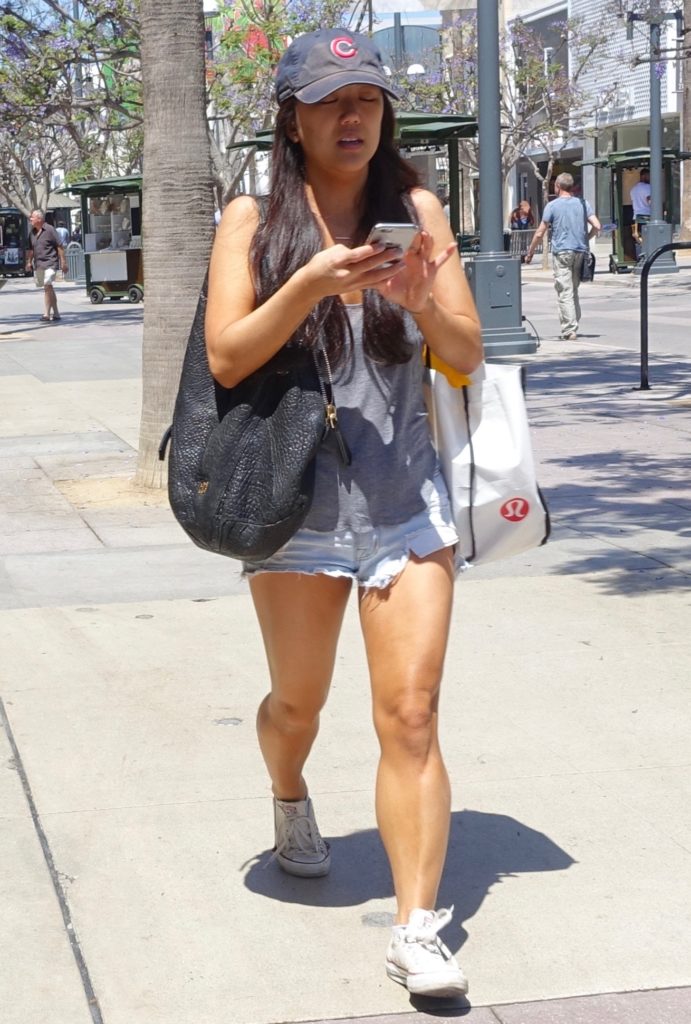 8) No! – The wrong handbag
I know how easy it is to just grab the handbag that already has all of your stuff in it – I'm totally guilty of that! – but if it clashes with your top and/or the style of the rest of your look, you might want to take the time to switch to something that fits better. In this case, it would be something more casual – maybe canvas.
9) Yes! – This is more like it!
All the elements of this look work together cohesively: all are casual, loose, and stylishly boho.
And my 4 favorites…
10) Yes! – Off-the-shoulder romper with bell sleeves
This look with lovely black booties lacing up the sides is all about style.
11) Yes! – Patchwork-themed romper with a ruffle at the hem
Notice that rompers work for both this woman and the one above, even though they have very different frames. The metallic espadrilles here add sophistication.
12) Yes! – White on white 
When temperatures rise, some of the coolest looks are all-white. Notice here how lace and very light grey detailing on the top and flatforms with a touch of metallic keep it oh-so-interesting.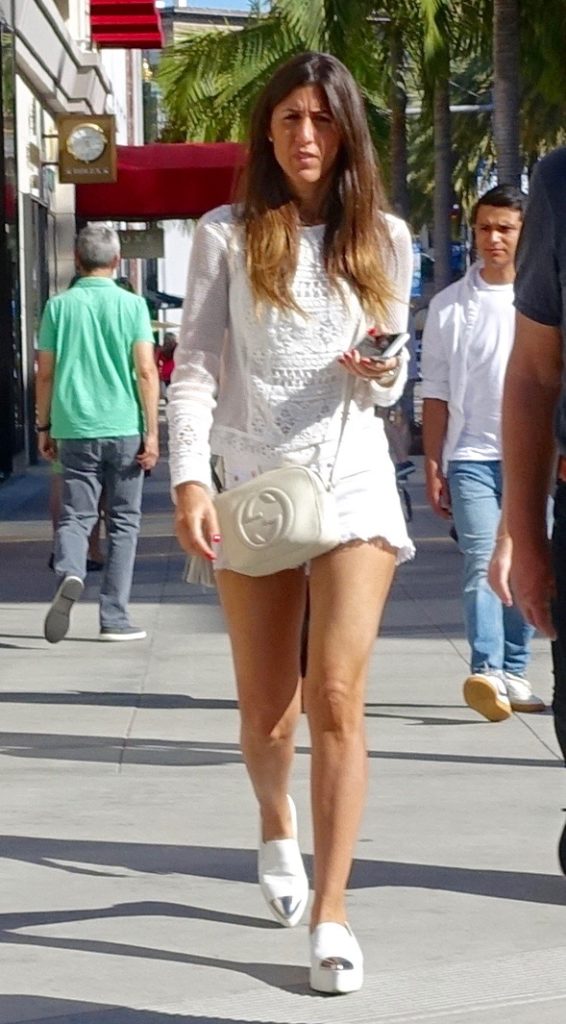 13) My favorite! A crisp white long-sleeved blouse with a double-layered pair of shorts are the ultimate in chic.
As I mentioned in my last outfit post, long sleeves in hot weather can be a super comfortable option. Again metallic footwear goes so well with dressier short shorts.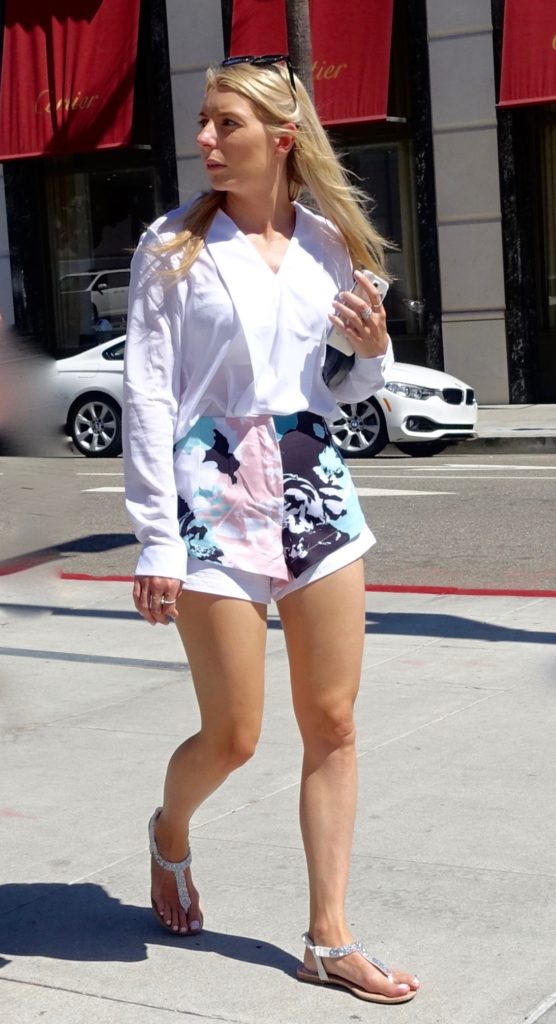 I hope these looks have also inspired in you some ideas on how to make short shorts work. Which look is your favorite?
XO, Janea
---
☀️?