Women have been wearing skinny jeans for quite a while now. I remember looking at impossibly gorgeous women wearing skinny pants in Milan three years ago and thinking to myself that I would never go there. My "athletic" thighs just wouldn't look right, I thought, and the cheaply made pairs I first tried on in the U.S. were not made to flatter anyone. Well, I am there, and now I notice more and more men are getting there too. Bravo!
I don't like skinny pants just because they are fashionable. I see everyone and her sister in a striped cotton maxi skirt, and I will never go there. I like them because they are so English horseback rider looking, so mod/punk reminiscent. Actually they are associated in my mind with all things English, and they are neat and trim to top it off.
To be completely honest, I might not like them so much if everyone and his uncle were wearing them, or maybe I will get tired of them one day. But for the moment, I think they are H-O-T and want to share some fine examples of slim/skinny pants wearing.
The gentleman pictured above is pastor of a church, and it would probably not be proper for me to say he looks hot. So, I will write it: H-O-T. I love the button down shirt with blazer (casual but cool), the wingtip oxford shoes with contrasting soles (very contemporary) and of course, the slim fitting jeans. Okay, my conscious is bothering me. Let's just say he looks dashing.

My colleague Ryan (featured above) also looks super stylish in this suit he picked up at the Nordstrom Rack (love it!) His sartorial daring causes him to really stand out at work – perhaps revealing his southern California roots. The suit looks ultra modern with the slim fit of the trousers, and the bow tie is another fun detail. It is a refreshing twist on the necktie with classic business suit look: smart, professional and up-to-the-minute.
C-arie Woodward of DapperSocietySF (pictured above) is a stylist in San Francisco. I will bet you couldn't tell! His look is simply perfection: all proportion and balance. First of all, I love the accessories of his attire: necktie, lapel pin and pocket square. They add just the right amount of spice. Once he steps indoors and removes the lovely white fedora, he will still look wonderfully stylish, thanks to these details.
The tan shoes echo the color of his tie – albeit in a lighter shade – and is a much cheerier alternative to black. And last but not least, the navy blue suit is really sharp. In fact, this item should be a staple in every well dressed modern man's wardrobe. According to Dan Trepanier of TSBmen,
This is your hero. Your workhorse. Your go-to. Your three days a week, but nobody really notices. – http://tsbmen.com/51487/how-to-build-a-smart-suit-wardrobe/
I would add, it is infinitely better if the trousers have no break (just hit the top of the shoe) and are slim fitting!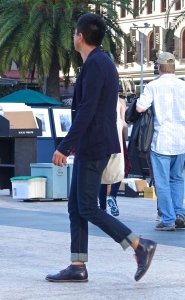 This last gentleman muse shows a great way to wear your skinny jeans: rolled up. By the way, dark denim with a sport coat is usually a winner. Rolling up the jeans creates a super cool look, drawing attention to his not-so-ordinary shoes. While the cuffed skinny jeans are casual, he looks neat, trim, contemporary and cosmopolitan. It is a more European look, which I am happy to see has made it here…FINALLY!