My fiancé and I just moved to Seattle from California. Our first weekend here was cool, Monday temperatures shot up to 77 degrees, and by Tuesday they were very cool again (high 40's to low 60's – hey, I'm from California!) with intermittent showers. I guess I should be used to these fluctuating moods of Mother Nature from living along the California coast. And as I check the forecast for my weekend destinations, I also see that Spring temperatures are not all that consistent in Boston and New York.
So, what is a girl to wear? Although I hate hate hate being cold, layering during this transitional season can drastically limit one's ability to look feminine or sexy. Some looks I captured in San Francisco, however, have given me a great idea: skinny pants with high heels! There's nothing cloddish about it, and when the pants are a good (flattering) fit, the silhouette is simply sublime.
I thought I would share a few photos I shot of this look in San Francisco, Queen of the Variable Weather Conditions.
The heels pictured above and to the left are cute and look more comfortable for long urban jaunts. I have to agree with Liliya Anisimova, however, who in her post about favorite shoes, reveals a preference for well-made shoes; she implies that the make of the shoe (Prada gets high marks) – rather than appearance – is a huge determining factor when it comes to comfort. I have certainly experienced far more foot ease walking in some of my heels than in some practically orthopedic-looking shoes!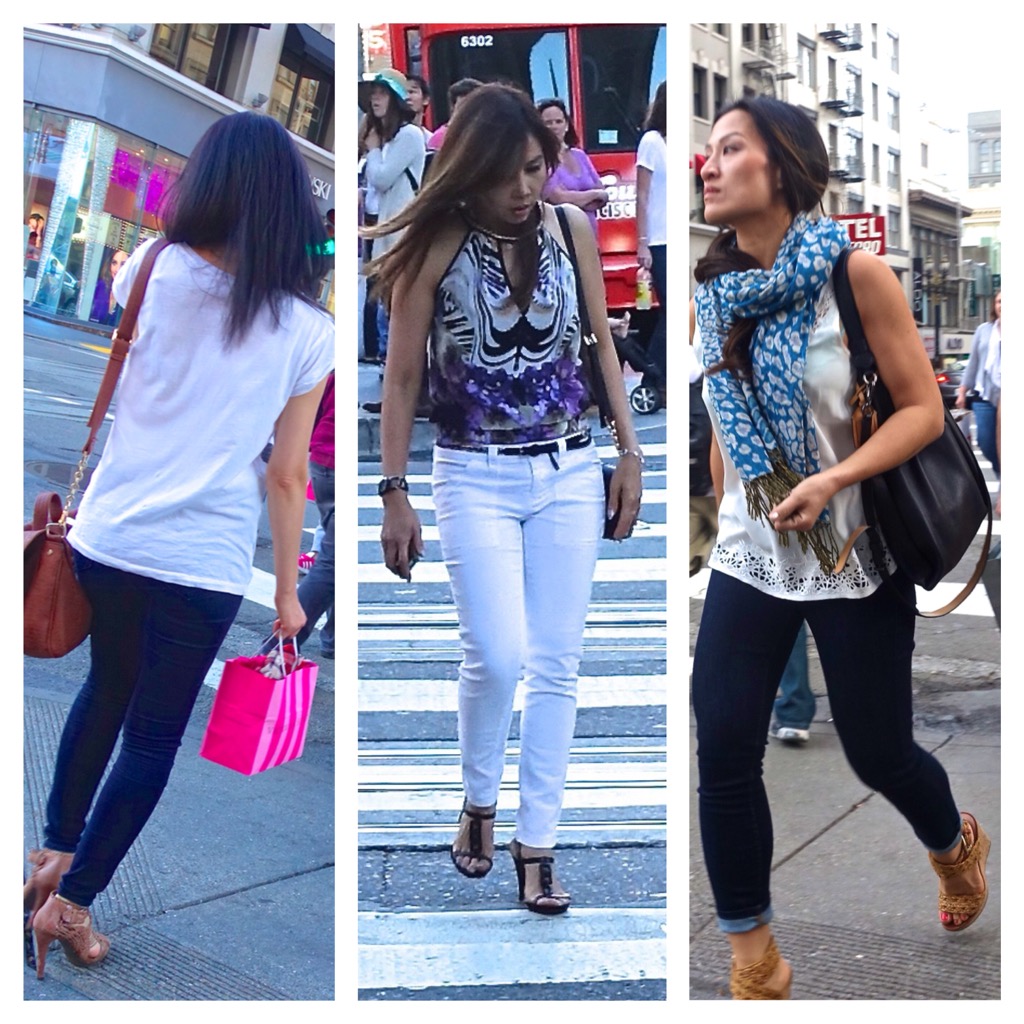 Is there anything lovelier on a warm, sunny day than high-heeled sandals? If the wind picked up, I don't think even a jacket or cardigan would ruin the silhouette of any of these lovely ladies. And notice the apparent ease of mobility of these ladies a la Carrie Bradshaw. 
But then who can argue with the fact that the muses, pictured below in skinny pants with heels, cut a striking figure even in a stationary pose? Adding a few inches of height goes a long way toward elongating the legs.
Yes, wearing skinny pants with heels is the ultimate variable-temperature look, don't you think? While Seattle isn't exactly a high heel mecca, I do see them downtown from time to time. Of course, it might be wiser to reserve them for days without too many intermittent showers.  And in New York City, a girl dressed in this fashion would certainly not be a fish out of water – ooh la la!