Hi Janea: Can I submit a request for your blog [theSTYLetti]? How does a size 22 woman, with petite basic body shape (short legs, short waist) dress for a business casual work environment in the summer when her commute involves up to half a mile of walking per day? I just got a new job at my company's HQ, my current outfits are too casual, not to mention non-seasonal, and I have no sense of style. Help?!!? – Samantha (message sent via Facebook) 
Information gleaned later: Samantha lives in Seattle, Washington and has an apple-shaped figure (meaning that there is less waist definition than with other body types) .
I've come up with a few exciting options for sprucing up your wardrobe, Samantha. I am hoping they help you to be more comfortable in Seattle's sweltering summer, create a fresh and new presentation for the new job, and make for some fun!
(Note: the following examples of clothing and shoes are taken from the Nordstrom web site, which is so user-friendly that I had no trouble finding illustrations for my recommendations. Be sure to click on the red Nordstrom in the caption below any item of interest to you.) 
For a petite, size 22 woman with apple-shaped figure, I suggest you look for A-line shift dresses with short sleeves. Although fit-and-flare dresses are very popular, it would be more advantageous for you to shop for a dress fitted at the bust and/or with an empire waistline and slightly flaring below that.  
This Eileen Fisher soft jersey shift dress at Nordstrom (pictured above) can be worn under a light jacket similar to some I mention below. If you find something even more fitted at the bustline and top of the rib cage, better yet! The same look can also be created by combining a top and skirt. The latter should hit the most flattering part of the leg, the knee.
Or…how about a maxi?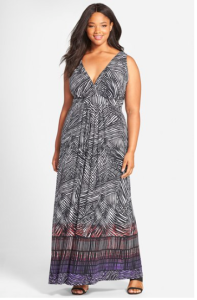 This lovely empire-waist maxi dress is certainly work-appropriate with a tank underneath – for cleavage coverage! – and a light cardigan or jacket for air-conditioned interiors.
As for separates, a pant with a straight to only slightly flared leg not only looks clean and professional, but is uber flattering. A medium to darkish color like navy – not black (boooooring!) – in a lightweight fabric is ideal.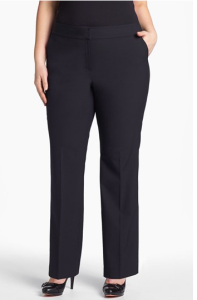 I like the look of this pant, because of the straight leg without pleats or embellishments.
Jeans are another great option in uber casual Seattle. They can always, however, use dressing up – think jacket or pretty top.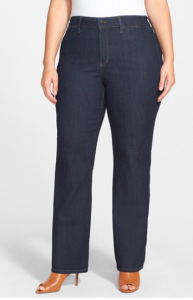 Speaking of jackets, they are great at giving your outfit a more professional edge.
This one is lovely, but would be even better in a lighter color.
A top with a longer hem underneath is hip and flattering. Make sure the color of the top does not contrast too much with your skirt, trousers, or jacket. I like the way this one is more fitted in the bustline and then flares.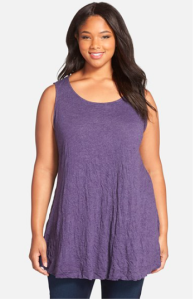 You could also look for a jacket which creates narrowness at the waist, such as these two. 
Even better for summer in a lighter color (below) – and on sale!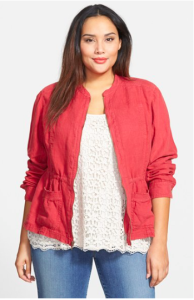 If you want to go a bit more casual, a denim jacket is just the ticket. Just remember to wear a top with a longer hem underneath to create a more flattering silhouette, especially with leg-lengthening wedge sandals like the ones featured ahead.
A short-sleeved top in a sheer fabric – which falls to the hips – can be perfect for summer. Love the lightweight fabric of this one! Pairing your jeans or trousers with a top of similar color/shade visually creates ultimate legginess.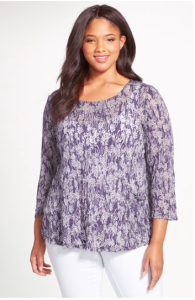 Lastly but by no means, least, are the sandals – the ideal summer shoe! It might be fun to achieve some leg-extending with a low- to medium-heeled platform or wedge sole. And for the half-mile commute, there are plenty of brands which offer comfort: Born, Clarks, Ecco, and Italian-made Umberto Ruffini, to name a few.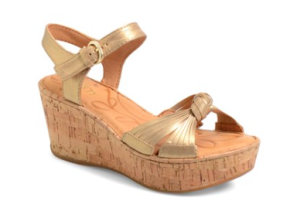 I especially like the wedge sandals pictured above for wearing with skirts and dresses. The way they blend with the skin tone (while adding a bit of shine) makes for a longer leg line, as does the wedge heel.
This next sandal would pair quite nicely with the recommended navy trousers. Just add the sheer top and jacket to complete the ensemble.
Although I personally prefer more of a heel, another option is for an almost-flat sandal. (Just the tiniest bit of heel makes for happier feet.)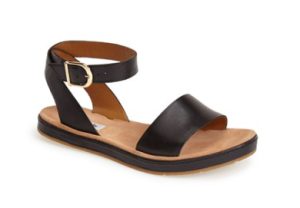 Congratulations on the new job, Samantha! And thank you for coming to theSTYLetti with your inquiry. I hope you will write back to let me know how these suggestions work out and how – I'm guessing – they help add some flare to your work day. 
I want to extend a warm welcome to my other dear readers as well who might wish to send me your questions and/or comments.
xo, Janea
Thank you, Melissa Bolinger (guest writer for theSTYLetti) for valuable insights and contributions to this Q&A!