Being someone who tends to go against the grain…a lot, I am delighted whenever I see a sartorial risk-taker. I applaud wildly (to myself) when I see a person in wide-legged trousers on streets overrun with skinny-legs or my latest thrill, a woman artfully combining socks with heels.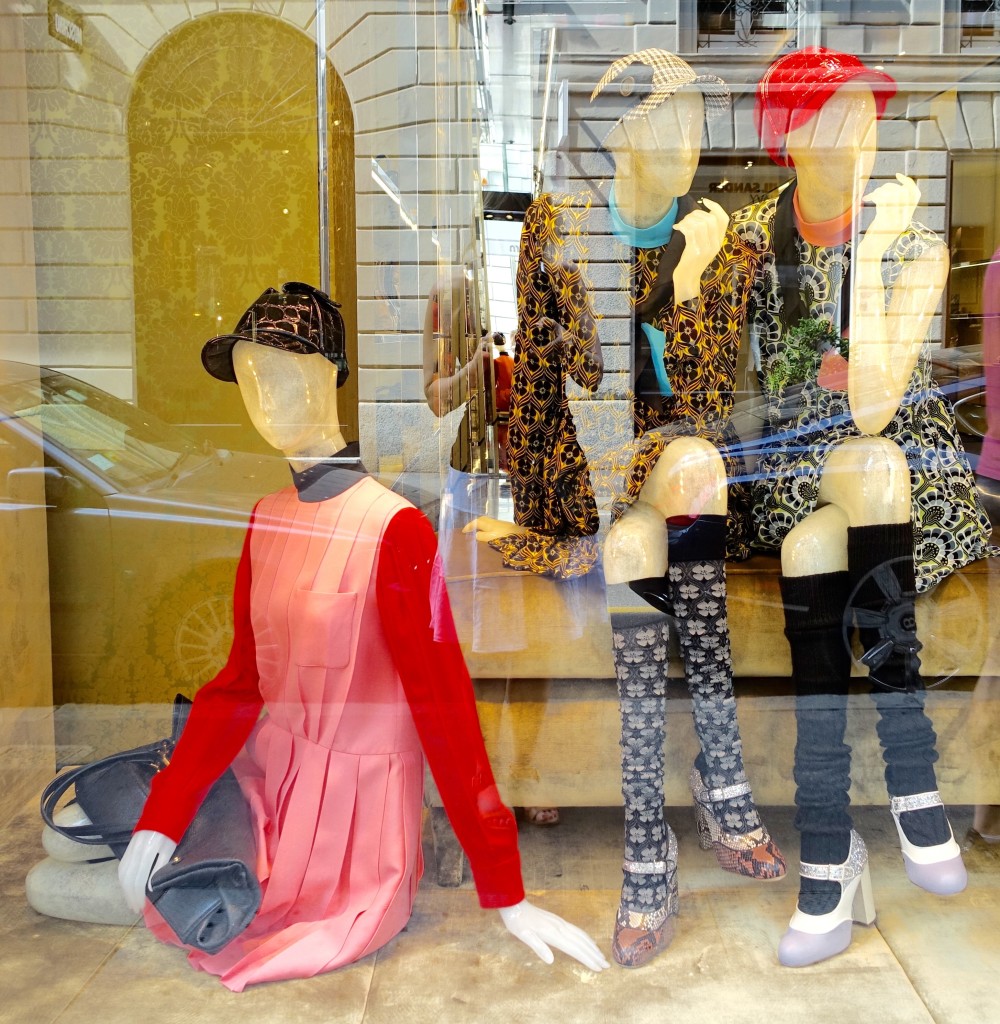 I am no less inspired by seeing socks masterfully combined with flats or sandals. 
I am not referring, mind you, to the Birkenstock/sock combination I frequently see with ripped jeans and t-shirt in my new hometown of Seattle. No, I'm talking about something along the lines of the Birkenstock/sock combination I recently observed in Milan…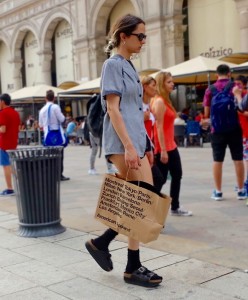 …along with some other wonderfully unorthodox combinations.
Hey, runways for this season were no strangers to sock/heels, sock/flats, and sock/sandals pairing! Prada's 2015 Spring/Summer womenswear collection was a notable example, but other designers also joined the party, including nostalgic Anna Sui and Rochas who played with contrast, featuring heavy socks with diaphanous frocks.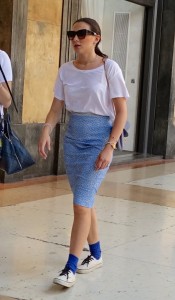 Why shouldn't the streets echo similar ideas? 
The look below puts a very sophisticated spin on a retro bobby sock-like look. Reminiscent of Prada's dark palette for this season, our muse clearly stands out from the crowd – exquisitely!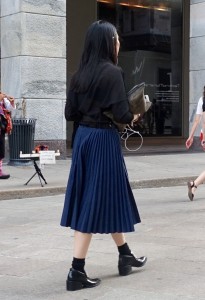 Speaking of standing out, our final muse demonstrates true, unabashed daring and artistry. True style is authenticity, and this woman is an original, combining pink and navy garments of different and similar patterns. Some might feel the pink and white striped socks below a navy and white striped maxi skirt is a bit much, but not I.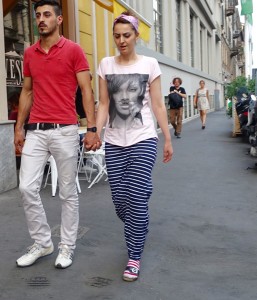 I hope you enjoyed viewing the ensembles of these inspired muses. They represent, in my mind, wonderful creativity and mastery of coordination. Granted, they do not reflect what typically characterizes what we consider a "pretty woman." Even socks worn with pointy-toed stiletto heels – which unfortunately, seems more common during fashion week than an ordinary 99ºF/37ºC summer day – run counter to our classic notions of (delicate) beauty; that is, with their heavy dose of sassiness.
No, wearing socks with an outfit like these is not for the weak of heart nor those of limited creativity. Would you ever wear socks with a skirt and heels? Or perhaps sandals? Why or why not?
xo, Janea