My fiancé and I spent a long weekend in the Boston area, and although Spring has sprung up on the calendar, I am not too sure when it will hit this area.
As I found in the beginning of the year, indoor malls are among the most comfortable place during frigid weather to people watch. I could not help this time around but notice a stark contrast between store windows (wishful thinking!) and attire on passersby.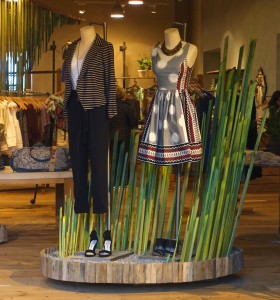 Snow still piles up high along roads and expressways. Combined with sand, it creates spiky formations resembling a scruffy beard. Beyond this, bare colorless branches poke up from blankets of whiter snow. 
I see scant inspiration for dressing in the colors of Spring blooms. I feel no motivation to shed a North Face jacket and take on painful 25 degree air touching bare skin in order to don sandals.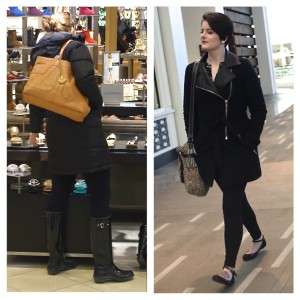 I tip my hat (would never remove it!) to those brave – or crazy? – spirits who go for it. By the way, I couldn't very well represent Bostonian style without including the quintessential collegiate look (below), now could I?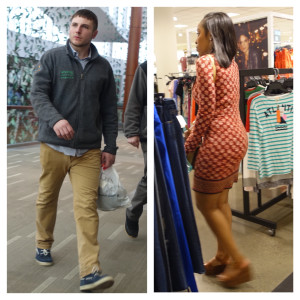 Yes, the women pictured above appear to all be sock-less. It pains me simply to look. I can only imagine that somewhere in the mall they have stashed bags full of parkas, thick woolly boots, scarves and hats for the dash between heated interiors and their cars. 
Would you dare to dress for Spring in Boston right now?