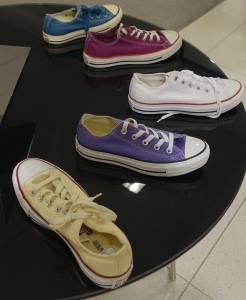 They caught my eye when I starting seeing them on the blog, The Sartorialist. They amused me when I saw them all over Norway last July. I'm getting more and more intrigued by them. Might a high-heels-are-a-must-for-elegant-attire girl actually wear sneakers with something other than workout attire? Here are 15 muses I've spotted in sneakers who have planted that question in my mind.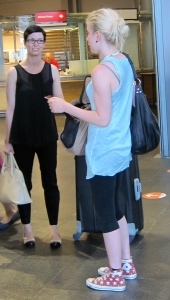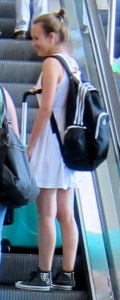 1, 2, & 3 – I spotted our first three muses pictured above in the Oslo airport at Gardermoen. They weren't by any means the only women I saw in high top sneakers in Norway. Converse® Chuck Taylors seemed to be a major element of style among Norwegian women at the END of my visit in July – and so, I had to document it on my way out (at the airport!)
I guess the popularity of chucks in Norway makes sense. Style is generally very sporty in the land of outdoorsy men and women. There is also greater gender equality compared to other countries, and so, the unisex look is cool. At least that is to what the founders of the Swedish sneaker brand Eytys (pronounced "eighties") attribute their success in Scandinavia.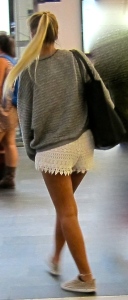 4 – The muse featured above was seen at Oslo Central Station. I prefer shorts like these worn with low top sneakers, like the ones in the photo; high tops would definitely shorten the look of the leg. In this beige color, the sneakers also avoid breaking up the line of the leg.
5 – I noticed the woman pictured below at Union Square in San Francisco. Her attire is unostentatious to say the least. I think I would have preferred a less conspicuous sock color, but it is an interesting look: clean, casual and quite unisex.
I've seen sneaker styles similar to this one made by Michael Kors, Sperry, Prada, Uggs and Burberry. My favorite brand is Superga, started in Italy of all places!! Some of their designs were co-created by the style blogger Leander Medine of The Man Repeller. I'm sure a lot of men would agree that they are quite the "man repellers", although their web page advertising features models donning ultra feminine garb.
6, 7, & 8 – Below we have three muses in fairly everyday, ordinary outfits, ranging from androgynous to girly. For each of the three ensembles, I would say the woman's chucks are the highlight, wouldn't you?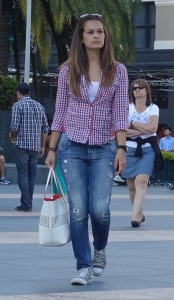 9 – The look below was seen in San Francisco on an October afternoon (above 80 degrees Fahrenheit). I loved her statement sneakers.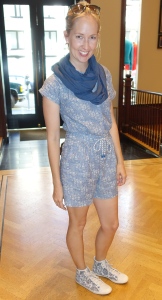 10 – The next pair of sneakers also makes a statement. This is my favorite sneaker looks of the bunch and a great transitional outfit for this time of year. I love the contrast of dressy-feminine and casual-androgynous.

11 – If you look more closely at the feet of our next muse, you will notice she made them into slip-ons. It is a super simple but hugely successful look. With black hair, dark eyes, black framed glasses and dark skin, she looks stunning with these popping colors.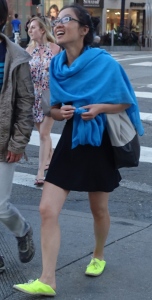 12 – These Vans definitely contribute to an ensemble that is hip and fun. I especially like the combination of different patterns, all in black in white.

13 – With a sheer floral patterned skirt and black sneakers, the look below is the perfect balance of frilly/unisex and of pretty/plain – youthful and lighthearted!
14 – The muse below pairs her sneakers with quite a conservative (perhaps wool?) shorts suit. I love how she cleverly paired her sneakers with matching socks. From a distance, she almost seems to be wearing shorty boots. It's a futuristic, cosmopolitan look.

15 – Next we have an interesting mix of Audrey Hepburn with a hint of rapper. Wedge-heeled sneakers definitely add interest to a simple black and white palette.
Would you have predicted that one day there would be high end knock offs of classic sneaker styles by Prada, Givenchy and Chanel? I never dreamed I would be able to window shop for them on websites for Barney's, Nordstrom or Bloomingdales, but the things are obviously in high demand.
Wearing them with elegant attire requires creativity and a fair amount of trial and error. Am I ready to give it a try? I have to admit I am the adventurous type, but would the look reflect my personal style? The jury is still out on that one. What is your take on them?
XO, Janea
---
????