Women have been wearing pant suits for eons. The website for Elle magazine features a darling 1961 picture of Brigitte Bardot walking the streets of Rome in a pant suit. And how can we forget the signature styles of Catherine Hepburn and of Diane Keaton as Annie Hall? Nonetheless, I will bet you have not come across anyone like the woman featured in this post. (Okay, I mean in real life. Frida Kahlo doesn't count.)
The following post is a style profile about a woman who takes suits to a whole new level: meet Celia.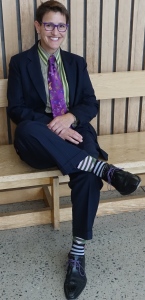 Celia is a dandy. I'm not the only one who delights in seeing her peacocking (simply by virtue of her appearance, not behavior) in spectacular haberdashery adapted to fit a woman's body meticulous attention to detail and color coordination. Anyone who encounters her recognizes the woman has S-T-Y-L-E.
The reactions she gets? While walking around San Francisco, where she lives, she receives compliments like, "Great suit!" or "Nice tie!" Cosmopolitan men with a daring command of color show appreciation for her aesthetic. Some, on the other hand, look startled or even regard her critically for going against the grain. All the same, she remains true to her style, her taste and how she chooses to express herself.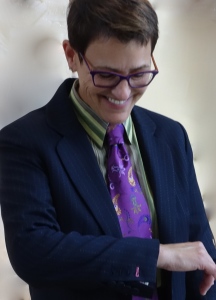 I recently chatted with Celia to uncover some secrets on how she came about her very individual style. The first thing she mentioned was being authentic. Hey, isn't that what style is all about?
On the heels of that principle, she expressed that "color is a way to express who we are." And patterns are also of great import to her aesthetic.
Style Evolution
The flowering of Celia's style began 15 years ago when she first began wearing suits to work in a San Francisco law firm. Later, she began incorporating neckties. For her, ties are like scarves, an object around which she can organize/coordinate the rest of her outfit. Hence, all her ties must be multi-colored with interesting patterns.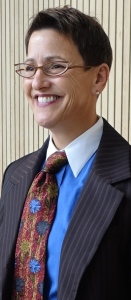 In her next phase, Celia began purchasing pants with buttons to support braces (British term for suspenders). How many men do you see who achieve this level of sophistication? From there she moved onto french cuff shirts (a favorite of mine and mentioned in our necktie post) in order to wear cuff links – multi-colored is her preference.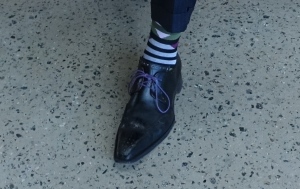 Accessories
One obvious feature of Celia's style is pure enjoyment of accessories. In Celia's case, forget warnings regarding over-accessorizing; she breaks the rules with success and panache.
Her latest must-haves are brightly colored socks, eyeglasses, and shoelaces to her looks. And of course, a coordinated color of lipstick!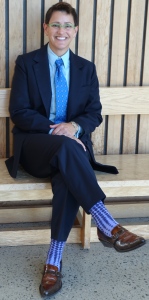 Designers and shopping venues (Take notes, gentlemen!)
When I asked her about favorite designers, Celia mentioned Paul Smith and Ted Baker. She spoke of a time in which the English couldn't dress for shit, but at one point became very fashion forward, and the aforementioned designers were part of that.
For neckties, it's Robert Talbott's Best of Class collection. Her socks are predominantly Paul Smith. For shoes, she prefers designs by another brit, Jeffrey West. She wears men's shoes, because they are simply made better.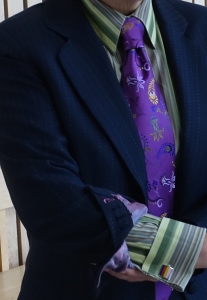 After taking a gander at a few of Celia's looks, I imagine you get the idea. There are women who don androgynous apparel, and then there is Celia. What makes her special is an extraordinary flair for combining colorful patterns and an ability to pull off a look of full cut menswear with – okay, I admit I am stereotyping – what I can only describe as a woman's touch. Don't you agree? What I know we can all conclude is that her style is refreshingly authentic. Brava, Celia!
XO, Janea