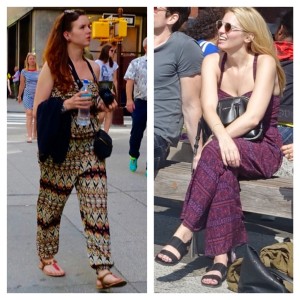 This spring, I saw plenty of jumpsuits among New Yorkers, and now that we are into summer, I still see a few there and in Milan. However, what I see in stores everywhere – as well as the street – are the shorter version: rompers.
The styles of rompers are endless. My favorites feature short shorts, as we see modeled below by a couple of New York muses. The one to the left is extra fun, with shorts resembling bloomers.   
When the cut is simple, the single piece gives a girl no excuse to skip accessorizing. Lora Donaldson in Seattle (pictured below) demonstrates adorably how a few accessories go a long way. I love the way she compliments her short-sleeved romper with a blue pendant on bronze strand necklace, bronze-colored bangles, and turquoise thong-sandals.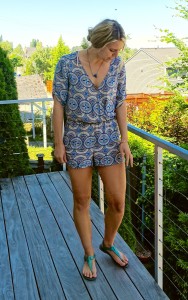 Ultra cazh denim rompers – these below were spotted in NYC – look great with more girly footwear, such as tan-colored high-heeled wedge sandals which coordinate splendidly with a LV handbag.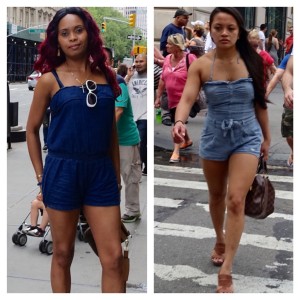 Rompers in a silky fabric with less-structured cut can end up looking droopy and shapeless, as we see in the center image below. The New York muses on either side pull off a much better look; the cuts of their dresses resemble that of a romper, but the skirt creates a cleaner line. It is also helpful that the dress to the left is fitted at the waistline and the one to the right is sleeveless: less overall bagginess.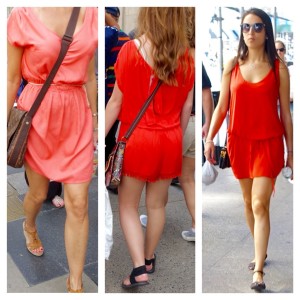 Aside from a blouse wrapped around the waist of the muse below and to the left (I'm sure it looks great worn to cover up in air-conditioned interiors) our final three muses from Milan show particular style in the donning of rompers.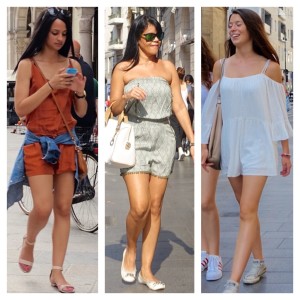 Delicate sandals and petite crossbody bag with narrow shoulder strap are a perfect compliment to the not-as-girly orange romper; a white handbag and ballet flats (called ballerinas in Italy) give the strapless romper in center a citified look; and Converse sneakers give the white, flowing off-the-shoulder romper a contrast of style while matching it in color.
Ah, so many ways to wear rompers and so few days left of summer. Let's enjoy them while we can, eh?
xo, Janea