Summer is in full swing, and we no longer need to pile on the layers. Unfortunately, it can be all too easy when dressing for the heat, to forego style. A solid tee, contrasting shorts, and tan sandals is an easy, practical, and comfortable choice for a hot, muggy day. But we might also say that it portrays a pretty fuzzy image of who we are, of our mood, aesthetic tastes, and individuality. That is, unless we personalize it in some way.
In a season of fewer garments (or at least lighter ones), it is still important to give thought to textures, color and especially, accessories. I want to share with you some great examples I spotted in New York and Milan. I hope you are as inspired as I am by these muses who not only avoid looking schlumpy in shorts, but who reflect a true sense of style.
Let's start with our New York muses. As noted in an earlier post, rompers should not be overlooked as a great way to wear shorts and remain chic.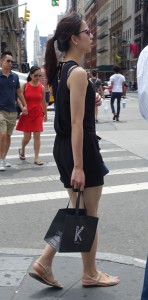 Check out how a lightweight white tunic and ankle strap sandals also make for an elegant solution to muggy weather. Gold accents with a classic ensemble are another great choice. 
A denim/chambray top does wonders for white shorts, wouldn't you say?
A pink top – especially with petite bright orangish red Marc Jacobs handbag, sandals with bows over the toes or ballet flats with fancy lacing at the ankle – make for a very ladylike shorts ensemble. 
Shorts of a flared cut are in themselves, an element of style. If you are going with denim cutoff s and tank of jersey knit cotton, a great way to keep the look (stylishly) clean is by accessorizing with a matching black watch band, Michael Kors handbag, and Vans sneakers. A pair of cool shades is a must.
Although I love the idea of a scarf with shorts, too many patterns do not a tasteful ensemble make. 
The first of our Milanese muses demonstrate how ballet flats (or ballerine, as they are called in Italy) and a wide-brimmed summer hat can be invaluable elements of a stylish summer look in shorts.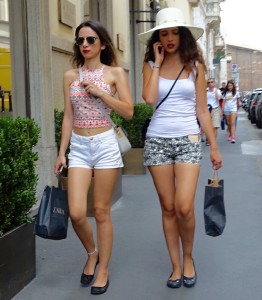 Shorts in a floral print worn with a soft handbag of flower details and ruffled blouse make for an elegant ensemble. Pairing feminine floral shorts with Chuck Taylors adds an interesting point of contrast.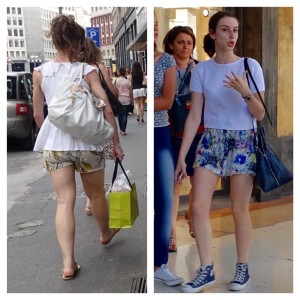 The theme of contrast is played up even further in the look featured below: a filmy, ruffled, off-the-shoulder ivory blouse over faded and tattered denim cut-offs. The sunhat and sandals echo a theme of beige with black, which add interest without stealing attention from the main show.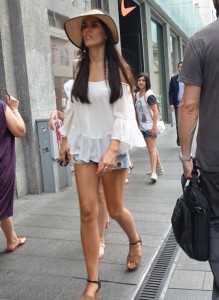 Yes, even the most minimal of garments can be used to create something sublime. I hope the muses pictured above have inspired your creativity for the next time you reach into your closet or dresser for a pair of shorts. Enjoy!
xo, Janea