A few years ago, I got rid of a prized pair of flat gladiator sandals – you know, the perfect fit, color, style,…, thinking that surely, gladiators were on their way out. Well, every summer since then, I have longed for those perfect sandals. And I've learned a hard lesson: gladiators aren't actually a trend; they are a summer staple.
This summer I confirmed that in New York and L.A., gladiators are not going anywhere (well actually, they're walking down the street!) And there's a grecian-inspired something for everyone! If you've wondered if you might be able to pull them off, check out these 8 ideas I've gathered on how to do it.
1)
Cuffed, destroyed jeans cry out for interesting footwear. It's a perfect match for the low-key flat gladiator sandal with straps up to the ankle.
2) For those who prefer the bolder tall gladiator, short shorts or a denim mini skirt with frayed hem – most anything with a short hem, really – are definitely in order.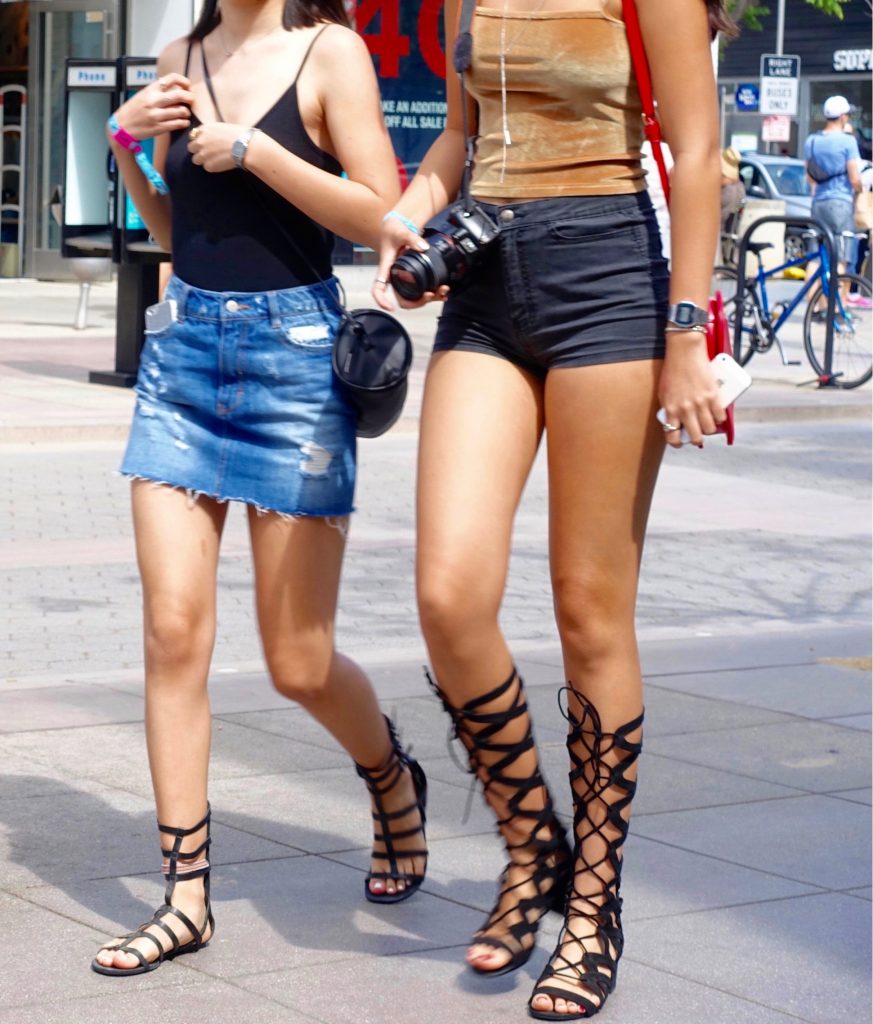 Of course, that isn't to say that short gladiators don't also go well with shorts – love this black and white combination!
3) I know, I've claimed that gladiators aren't so much a trend anymore, but it's a good idea to combine them with a few classic pieces for a more individual look. 
I'd prefer the look to the left (below), for example, if the choker, frayed cut-offs, or fringe, were replaced by something timeless. The look to the right of this, in contrast, suggests more of a personal/authentic style.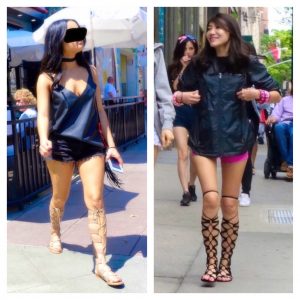 Shorter gladiators worn with interesting color choices make up an outfit that is trendy and unique.
4) For something softer, gladiators can be worn with a shift dress.
A high-low version and tall gladiators allow for some fun with proportions, while a more classic shift is a lovely match for an ankle-high pair (so very much like the one I chucked!)
5) I am in love with the block heel of this laced-up, gladiator-inspired sandal and the way it's styled here.
Yes, the stripes of the dress are very different from those in the shoe, but I actually like it. To me, the shoes resemble a partially melted version of the dress's stripes – sort of like the Prada Spring/Summer 2017 show for men full of whimsical, rule-breaking pattern mixes.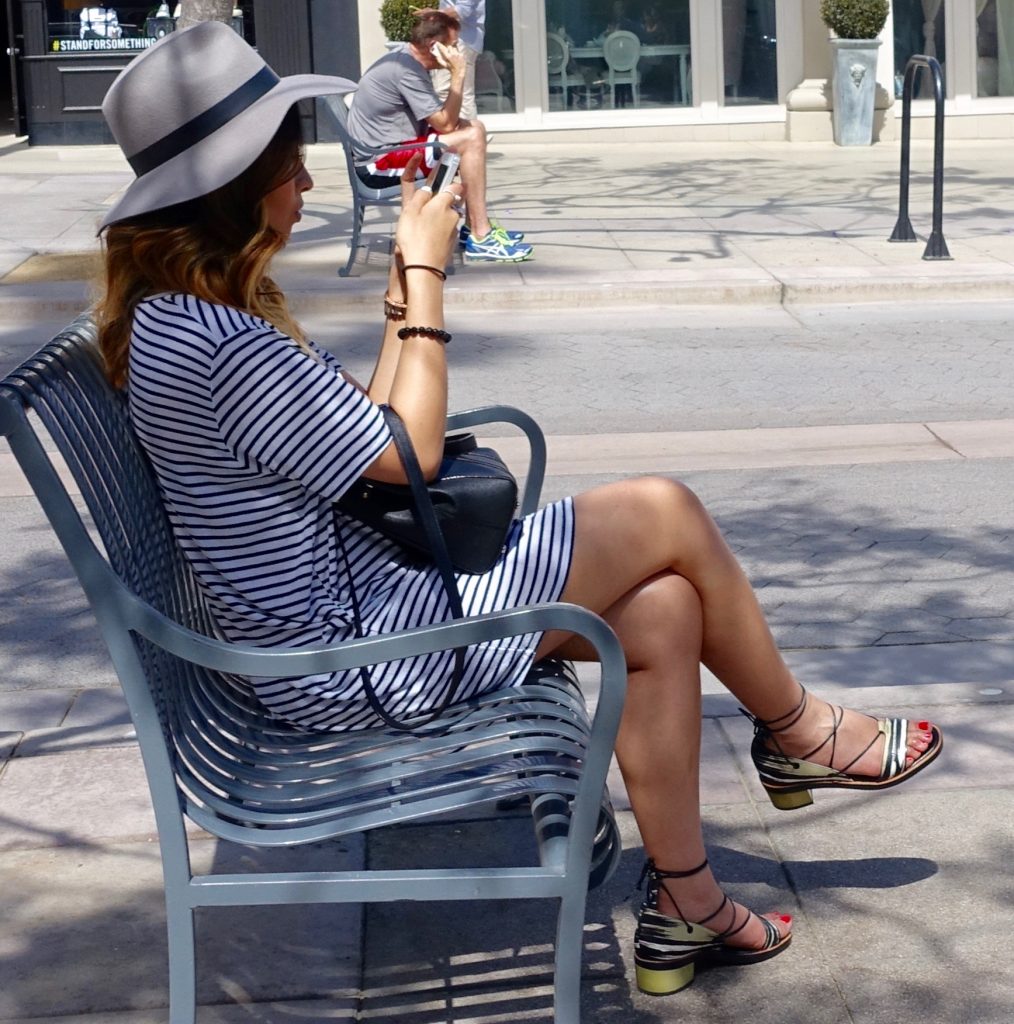 6) And here is my more matchy-matchy

boho maxi dress look

with high-heeled gladiators.
If the dress were a few inches shorter, it would also work well with a flat version.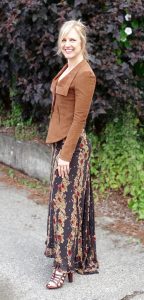 7) If you prefer a sophisticated, sexy look, a gladiator-inspired lace-up heel pairs perfectly with a body-con sheath dress.
8) My fave gladiator look was modeled by this woman who I – not surprisingly – encountered in front of The Broad (modern art museum) in L.A.
She shared with me that her gladiators are vintage and that she bought the two-toned (yellow and light blue) metallic-y shift dress to go with them. Check out her sculptural bracelet! ?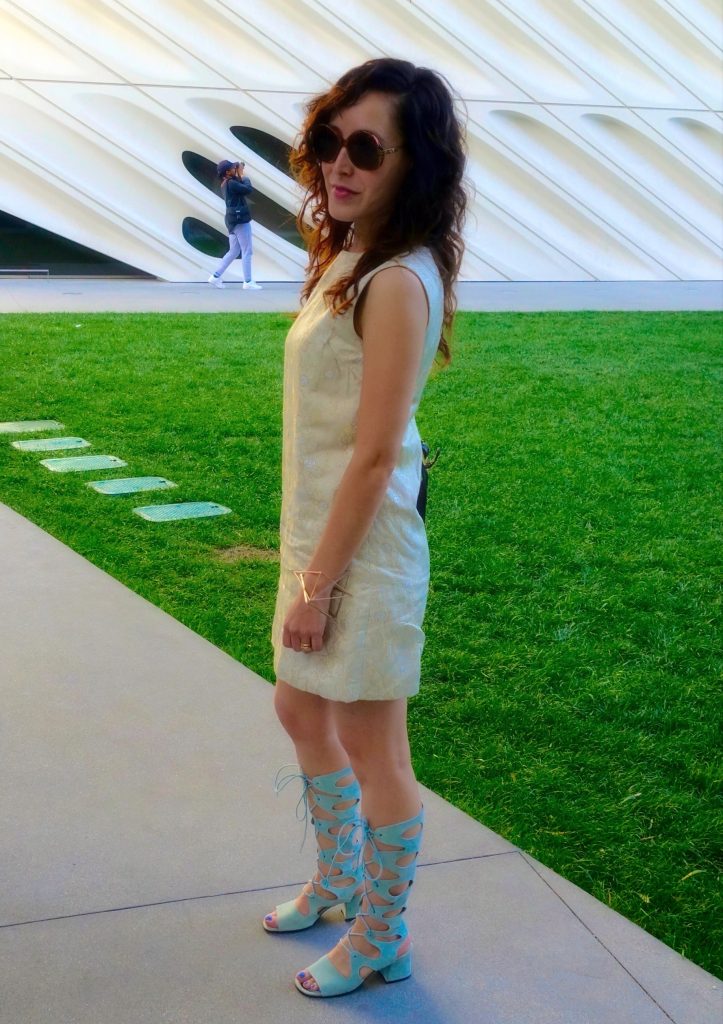 I have to say that those grecians were definitely on to something when they came up with this style. When you find the right pair for you, it's something that can be savored for many, many summers! ?
Which is your favorite look?
XO, Janea
Psst! Thinking of getting some gladiator sandals? Here's some link love for
---
?