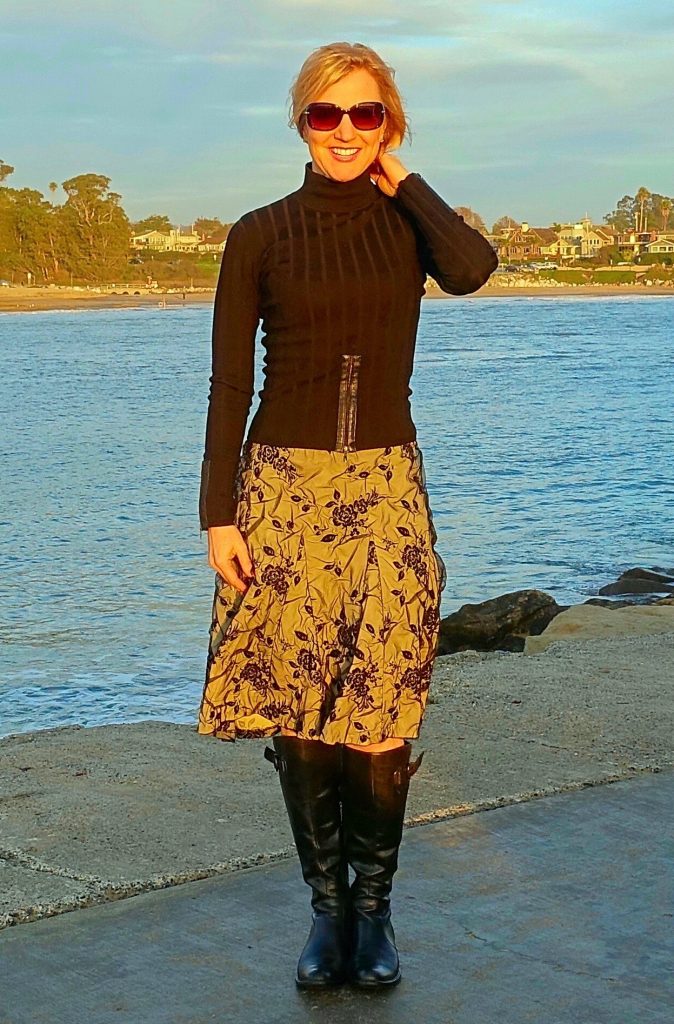 Happy Friday! If you're in the U.S., I hope you had a lovely Thanksgiving. Mark and I headed "home" to Santa Cruz, California for this one. It's a bit breezy and cool, but we are truly relishing the vitamin "sea"! I'm wearing a pair of riding boots which I leave in Santa Cruz. It's nice to have clothes both here and in Seattle. That way, I can avoid having to pack much when going back and forth. I've had these boots a while, but guess what? The style is classic! If you'd like some new inspiration for styling riding boots, I hope you'll like this outfit.
Styling riding boots with a pleated A-line skirt
If you've been reading the STYLetti for a while, you'll know that I tend to favor tops which are cinched or very fitted at the waist. It is such a flattering look, especially paired with a pleated A-line skirt. With the way that it flares at the bottom, I can't think of a better way to divert attention from curvy thighs or also to balance out your figure if you have broad shoulders.
The texture of the skirt is definitely worth mentioning. It might appear to be lace from afar, but it is actually a black gauze layered loosely over a nude stretchy fabric. Velvet flower and leaf patterns are like the "glue" that binds the two fabrics together, leaving the gauze to ruche up around the patterns. It creates the coolest three-dimensional effect.
If you have curvy thighs and are styling riding boots, this hemline is definitely the way to go. Any lower, and you risk looking matronly. And a much higher hemline could very well make legs appear thicker, since riding boots cover the areas where the leg narrows – at the knees and ankles. If, however, you are very slender in that department, by all means go for a short straight skirt and thick tights – it's an adorable look!
Hard for me to decide which is the star of this outfit – the skirt or the sweater
The ribbed mock turtleneck sweater is just the right density and thickness to keep me quite warm without looking bulky. And have you noticed how some very fitted tops make even the thinnest waist look like it has rolls? Fortunately, the knit of this one is so thick that it lies flat – even if my tummy isn't perfectly so!
Besides being warm and flattering, the sweater has another really great feature: leather-outlined zippers at the waist and sleeves. These edgy leather details contrast so well with the feminine lace-like pattern of the skirt. I love an eclectic look, and the riding boots add yet another style to the mix. In fact, if it got any colder, a military-style or leather moto jacket would be another fun addition – I suppose if we were in Seattle.
Do you wear riding boots, and if so, how do you like to style them?
XO, Janea
---