Summer is not over yet! Sure, we are all being bombarded with ideas for transitional dressing: plaids, autumn green,…Vogue® even recommends a denim bikini (cute!) However, as far as I am aware, this is not fall. Why not enjoy the present sunny moment and stay focused on this season's clothes – at least until next month? One of my favorite examples is the summer dress!
I cannot think of a better way this summer of enjoying the comfort of pajamas (or a sleep shirt) and looking lovely on a stifling hot day. Apart from that, it might also be one of the most flattering garments you own.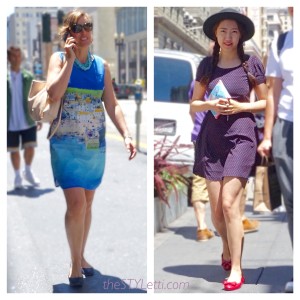 Whether a shift dress with a colorful waterfront city scene or a figure-flattering fit-and-flare, the summer dress is low maintenance, requiring minimal coordination and therefore leaving time and energy to come up with a special touch here or there: a statement necklace, summer hat, or brightly-colored ballet flats.
Even though the summer dress can be oh-so-girly, your shoes needn't be. Interesting contrast along with an edgier vibe are achieved, for example, by pairing it with Chucks or flats of a thicker, saw-edged sole.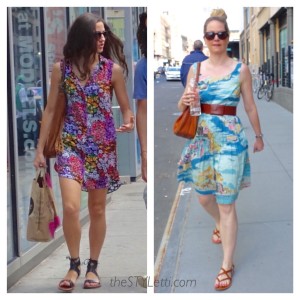 Of course, my personal preference is for a pair of less gritty, more girly sandals. Don't you love the classic look of the muse to the right (above)? Matching all accessories works for me! The timeless look also reminds me of the formidable fashion icon Iris Apfel's claim that in her 90's, she still wears a dress she bought when she first married her husband.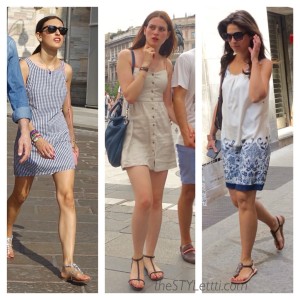 Notice how our final muses from Milan all pair their summer dresses with delicate-looking flat sandals – and subtle accessories. Even in a leading style capital, there are simple solutions to dressing beautifully during a heat wave. 
While summer dresses are ideal for walking around the city on a sweltering day, they are also perfectly suited for…1) A coffee date 2) Urban hiking around home or on vacation 3) Visiting the local farmers' market 4) As a swimsuit cover-up while heading to the beach 5) Casual dining and/or movie (with cardigan or jacket) 6) Wine tasting 7) Outdoor concert 8) Picnic or barbecue. 
Since it is not even close to the time for roasting chestnuts or snuggling up in front of a fire – unless it is a beach bonfire! – I suggest we focus on the here and now. Will you be wearing a summer dress this weekend?
XO, Janea