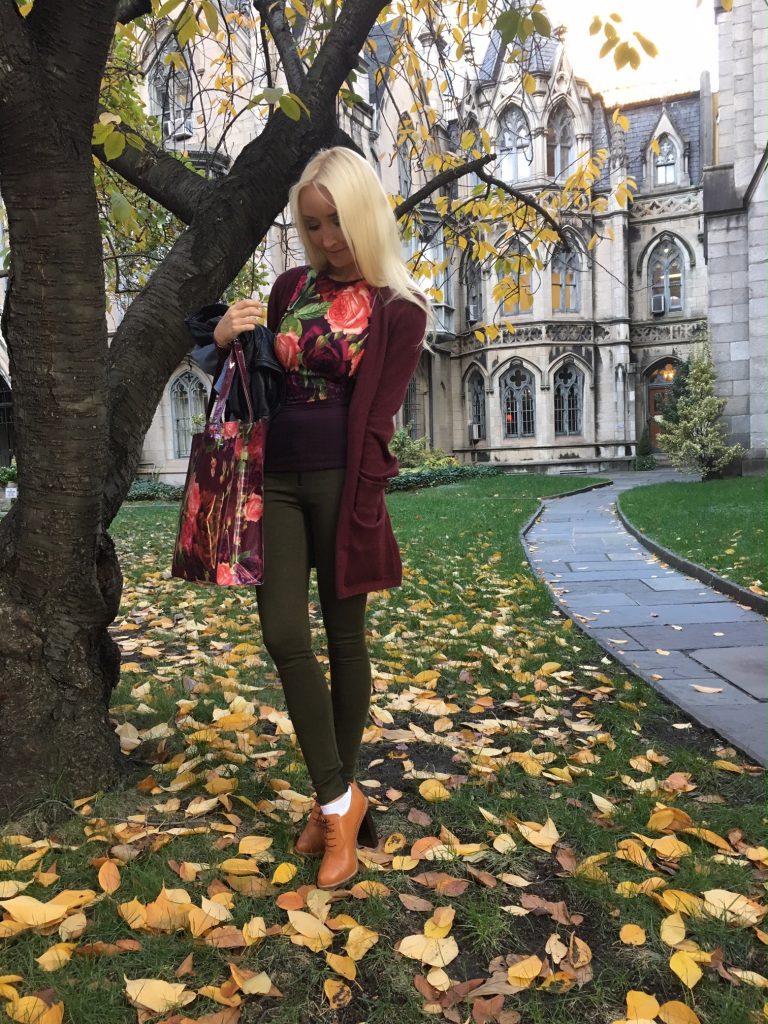 When Janea asked me to check out shopping site octer.com to see if I liked something and if I'd want to review it, I was really thrilled. Not only did I feel like a celeb blogger who gets all those samples, clothes, and accessories to check out, but I was also really happy with what Octer has to offer! I said, "Yes!" as soon as I saw the list of stores to which Octer connects you.

Reviewing Octer
When shopping online, I have my usual list of stores. Bloomingdales and Nordstrom surely figure in my top 10. What Octer does is save you from having to go from store to store. Instead, you can simply pick a department – Women's, Men's, Home and Garden, Kids & Baby, Beauty, Travel, Sports, Stationery or Food and Drinks – and voila! You see what ALL the stores have to offer! Of course, you can also shop by store if you'd like.
I also enjoyed that Octer suggests what you might also like. It is very clever, considering that you have not only one store's selection, but multiple stores!
My choice was this colorful floral-print Ted Baker t-shirt! Normally, I would just get that and be done with it. I rarely check out accessories or bags, since I'm not a big bagoholic. But when Octer showed me that I might also like this – a bag and scarf with the exact same print – I loved them. I got the bag, and it does make the outfit special. And who knew I'd need it?! I love this combination of colors – very fall and chic, and they easily combine with so many other things.
People who read my blog know that I love Ted Baker and feature a lot of outfits including pieces by that brand. But surprisingly enough, I have never ever shopped at their online store.
Ted Baker
I discovered Ted Baker in London many years ago. Now I buy things in their store on Fifth Avenue in New York, at a large boutique they have in Bloomingdales, and also in their store at North Park Mall in Dallas. My mom and I love going there together.
Even though I love the brand, Ted Baker customer service (we're not talking about Octer now!) could be a little friendlier. After entering what I wanted to order on Octer, I was transferred to the Ted Baker site, and the fun began.
I accidentally entered my email address incorrectly, and when I called Ted Baker to enable my email notifications from them, they didn't want to go to the trouble of correcting my email address. I might as well have been trying to reach Buckingham Palace!
In contrast when the same thing happened to me a week ago with H&M and I misspelled my email address, rushing to purchase from the limited H&M X Kenzo line, they couldn't have been more helpful.
Happy Ever After
Long story short – I had to create a new email account with that misspelled email address so that I could get my Ted Baker tracking information. (Luckily, the email address wasn't taken.) Nonetheless, I got my clothes sooner than expected and was really happy at the end of the day.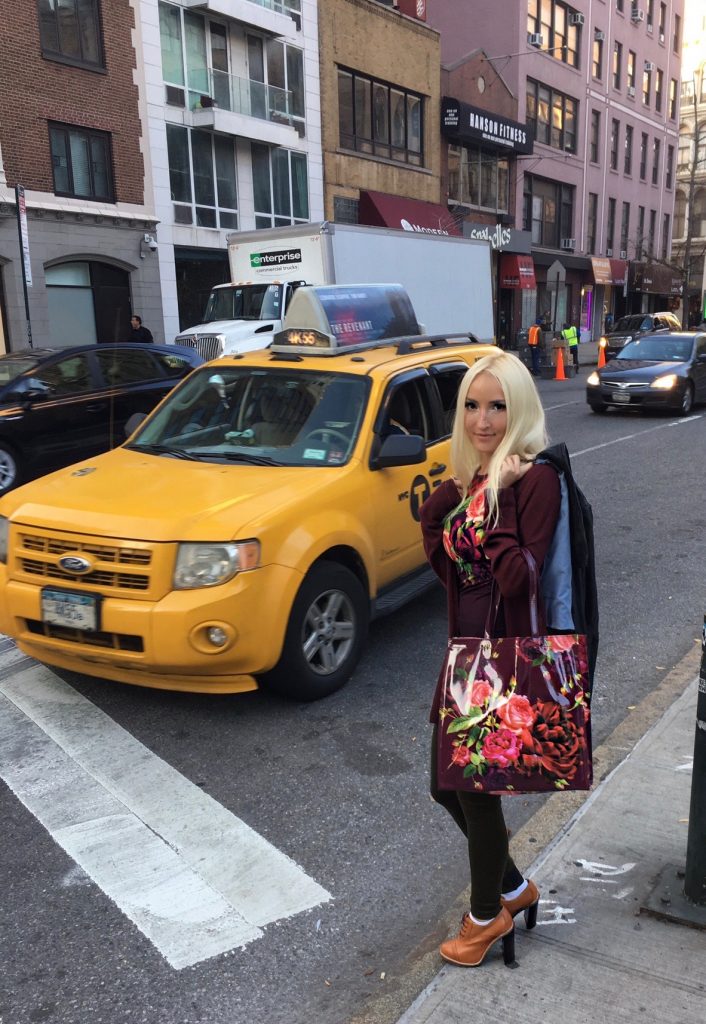 I combined my Ted Baker with my Burberry cardigan in same color and Alicia & Olivia wool pants. Chloe high heel boots with matching shoelaces nailed the outfit.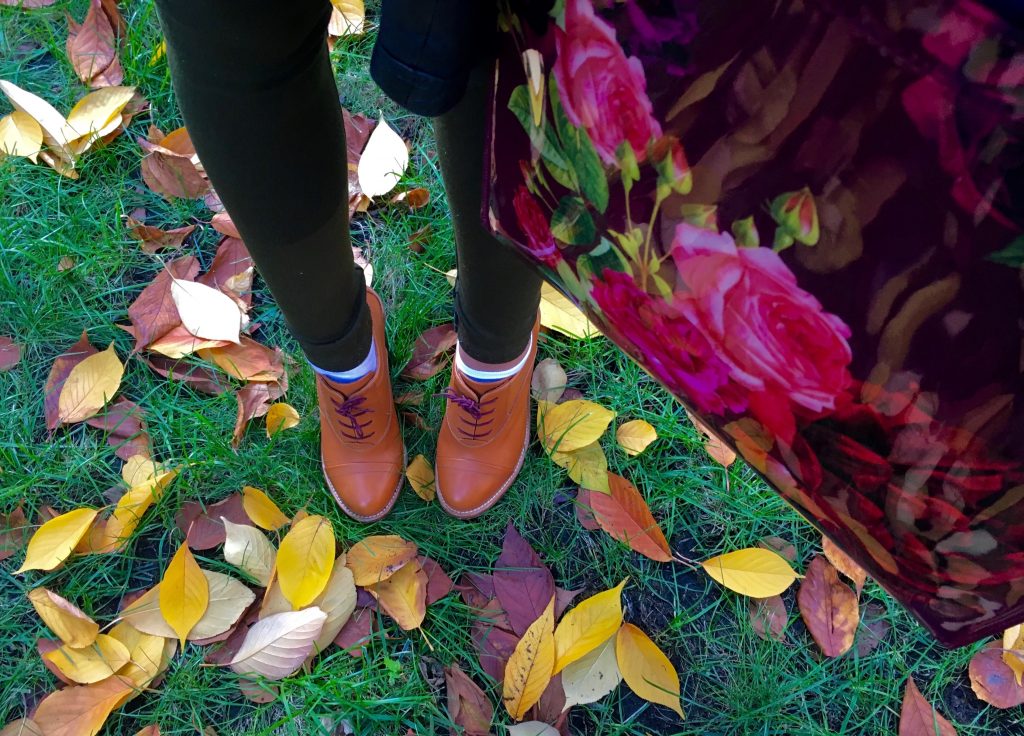 A Perfect Day for the Outfit
On the day I wore this outfit, my friend Kostya and I met up in the East Village. We wanted to walk and talk, enjoy the beautiful weather that day, and catch up. We hadn't seen each other for two weeks or so and had so many stories to tell each other.
It was around 60 and felt especially warm after my recent trip to Boston, where I was already wearing a borrowed winter jacket from a friend.
That vinous color of my outfit combined with deep green and brown – it's almost the embodiment of autumn. I enjoyed my outfit and the day, including my little photo shoot with Kostya near my favorite church at the corner of Broadway and 10th Street. It's especially beautiful this time of year since the leaves have changed color. It was a perfect outfit for that perfect day and perfect weather, thanks to Octer. 🙂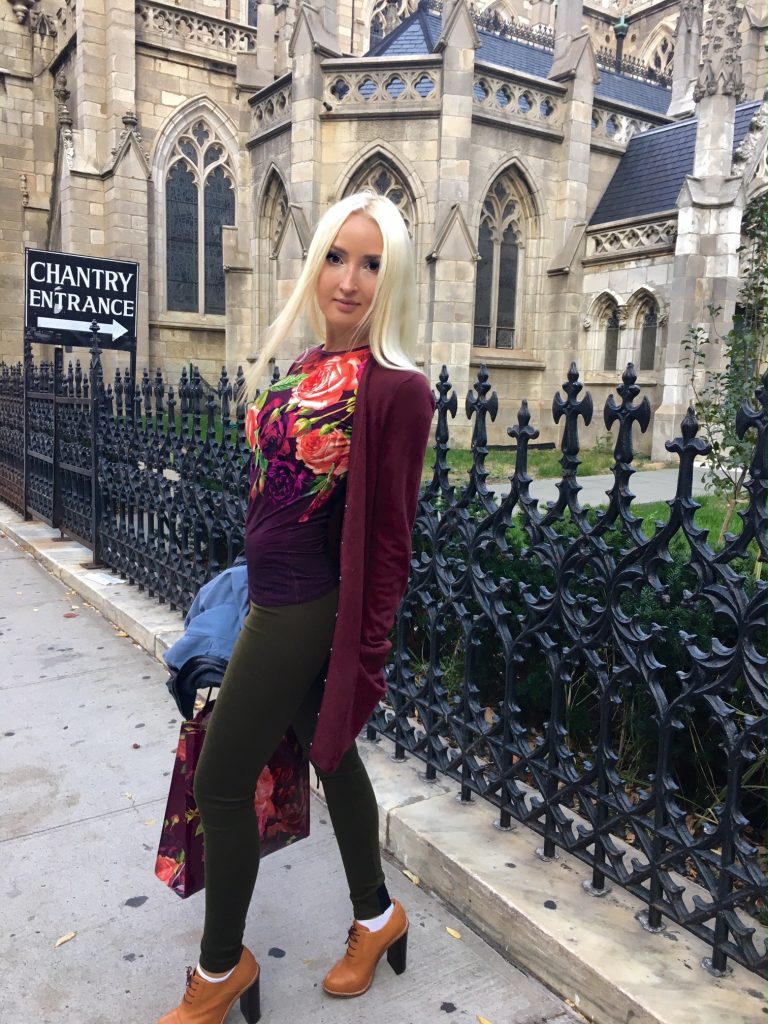 We received partial compensation from Octer for the items we purchased for this review.
---