A friend recently told me she is eagerly awaiting the rainy season, because she looks forward to wearing boots again. I, having grown up in western Washington where it rains 9 months of the year, had a pret-ty hard time figuring that one out. I mean, I live in California because I like sunshine, I like light, I like warm weather – even hot weather! I am not looking forward to frigid temperatures: for me, boot wearing is a concession for having to put up with it. Yes, official boot season is near…but now that I think about it, haven't I seen booties all over the place this summer?
Just about everywhere I went this summer, I saw booties. I spotted them in the San Francisco Bay Area, Norway (during a July heat wave) and the Milan airport. Yes, booties are worn year round. Why not? After all, if I want to wear a delicate high heeled sandal in the winter – provided there is no snow on the ground – I will. Wouldn't you?
So, let's say we're pulling out our booties from a spare room closet – not! – and we're about to start donning some high boots or even the over-the-knee variety. This seems like the perfect time to reflect on a few examples of boot wearing at its best and its not-so-great?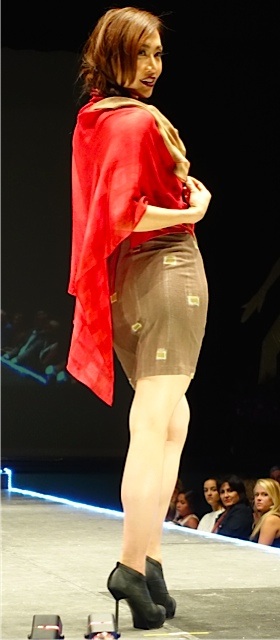 The booties featured above are sexy and perfect with bare legs. The top exposes the contour of the model's ankle and so, it accentuates the shapeliness of the leg. Of course, these babies would be torture if she were standing or walking for extended periods, but the style is very flattering. By the way, they would also serve as a great weapon of self-defense!
The woman pictured above was very elegantly dressed. The booties pictured above are very lovely and beautifully match the leather of the skirt, but they unfortunately gape a little too much in the front to work with bare legs (or stockings). Because of the roominess at the top in addition to their height on the leg, they break up the silhouette. On the other hand, they would look perfect with a pair of tucked in skinny pants or jeans.
The bootie pictured here (above) hits about the same spot on the leg as the previous shown boots, but they taper to the ankle. Doesn't it look smart with this outfit?

The willowy Kate Middleton look-alike shown above is wearing skinny pants tucked into her booties. You will notice that there is a slight gap between the boot and her slender legs, but I don't think it is really a problem. I love the way she put together this look, with black skinny pants tucked into her matching shorty boots for a long continuous line. I also like the striped top with just the right sized stripes: not so big that they break up the silhouette but not so small that they blur into grey from a distance.
The boho look pictured above is not sexy, but it definitely has character. The riding boots were passed down to this young wearer by her beloved grandmother. They are about a century old. So, they're practically a walking museum piece. The cropped, cuffed jeans with a tear for effect are a perfect accompaniment to the boots.
This pair (above) are a modern version of the old-fashioned riding boot. A frontal view shows how cheeky they look with bare legs. See the side view below.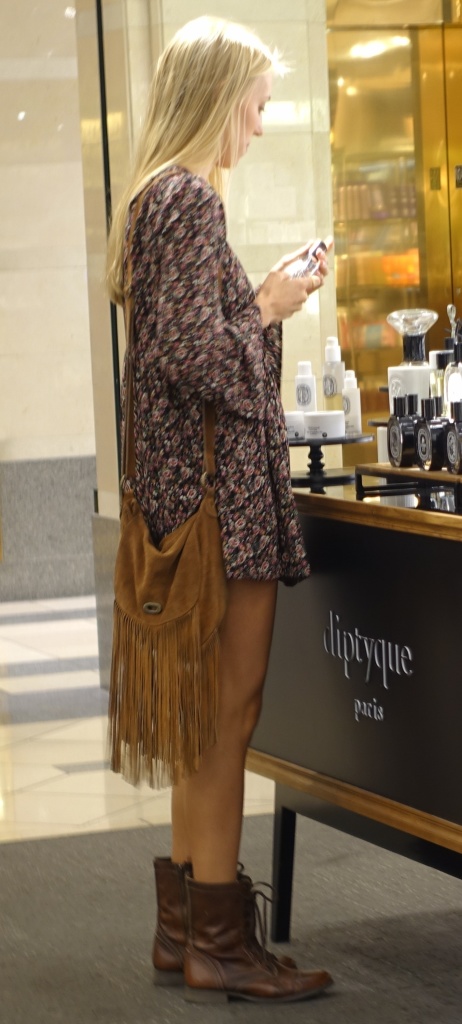 The young woman shown above has an adorable bohemian look. Her slender legs go on forever, and so wearing a higher bootie is a non-issue. The handbag with long fringe also draws the eye downward to elongate the look, and coincidentally, her long locks create the same effect. I would recommend just one minor modification here: a pair of socks of medium thickness, artfully bunched up at the top of the boot to provide a transition between the boot and leg.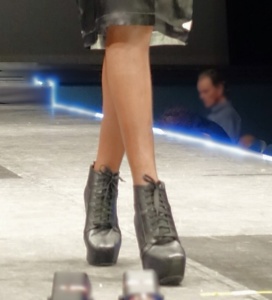 What I have to say about the next pair of boots pictured above is: overboard! When a platform goes beyond a certain height, the look goes from sexy or glamorous to overblown and maybe even trashy. The occasion for wearing these was a fashion/art show, and so, exaggerated makeup and platforms are to be expected, but I wouldn't want to wear these elsewhere.
The style below by Stuart Weitzman is of the same idea, but more refined and of this world, don't you think?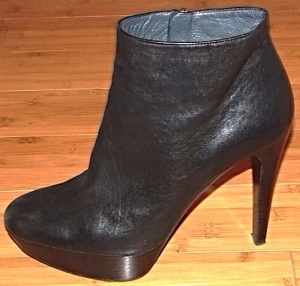 So far this year I have not yet seen a wide range of high boots or over-the-knee types. I look forward to the pleasure in coming months. I did, however, manage to find one inspiring wearer of tall boots this summer. Our last muse (below) exemplifies a fine job of combining boots with pants. The closeness in tone of boots and pants allows for a continuous (long) line of the legs.

I am a big fan of wearing three main colors, by the way. It is often just enough variety for interest without looking too busy. The three shown below were well chosen: blue and orange are complimentary colors but are of muted tones here; so, they aren't garish. The brown color of her handbag and boots are of the same tone as the blue and burnt orange and so, they coordinate with the outfit and in fact, frame it. The colors here also compliment this woman's features; the brown matches her chestnut colored locks, while the orange of her pants bring out her reddish highlights.
I have to say that I love women's boots. I love just about all kinds of boots, especially sexy boots. There are, however, two kinds for which I have no love: cowboy boots (I'm not a cowgirl) and rubber galoshes.
No, I am not a fan of rubber boots, unless they are wellingtons designed by Jimmy Choo (yes, they exist!) worn by Kate Middleton. Otherwise, if you were to ask for my advice/opinions on the topic, I would have to say, "Leave them on the rack. Do not pick them up. Do not try them on, and whatever you do, do not buy them!" That is, unless you intend to wear them through slushy streets just to the office, where you plan on changing into something presentable (stylish).
What do you think of these looks?