Have you noticed a white-soled and thick-soled thing happening lately? 
I've see it wherever I go: Seattle, San Francisco, New York, Milan. It seems that the Vans revival is just the tip of the iceberg. Eye-catching white soles have migrated to loafers and sandals. And to carry the sole-dominant tendency even further, the uber fashion-conscious are sporting sneakers, sandals, and loafers with a crazy extra thick sole.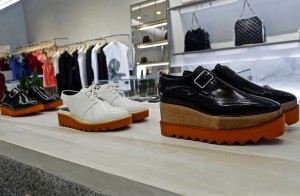 Now before you write it off as just another "ugly shoe" trend, I invite you to check out the muses below which make this footwear style work. 
In Italy, I observed the Vans offspring pictured below. They are something I ordinarily look past in stores, being a bit more androgynous than my mostly girly shoe wardrobe. But check out how this Milanese woman counterbalances them with a flirty sleeveless top and mini skirt.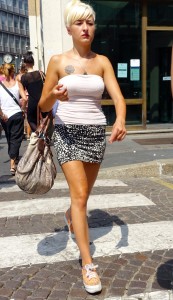 The following contrasting (in color), thick-soled shoes are adorably retro with a modern twist (the sole) and help make up a casual yet classic ensemble in ivory and black.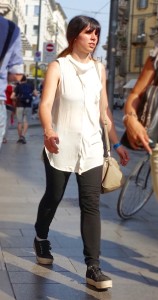 Although the flatform (flat platform) has made headlines because of potential dangers walking in them, bad PR has not kept them off the streets. (If you own some, please be careful!) I loved this black pair with cutouts I spotted rushing by me one early evening in Milan. Aren't they perfect with a light summer dress and matching handbag?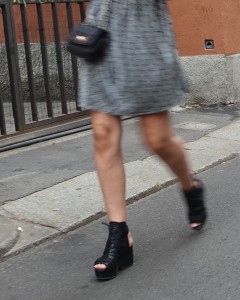 After my recent resolution to wear as much light-colored attire as possible this summer, I am having to shun a lot of my black shoes. Not necessary if they have a white sole! Don't the shoes on the left look adorable with shorts?
Then there are the how-do-I-call-them – espadrille flatforms? – to the right. What a great way of adding a little shine to an all-black outfit, not to mention 1) adding a little height  and 2) providing extra cushion for walking.
And shall we call these espadrille-sneaker-flatforms? Notice the way the soles match this Milanese muse's neutral-colored skirt (and shades) while her top matches the shoe's upper. I love this woman's accessorizing brilliance: a two-toned handbag echoes the black while bringing in a refreshing shot of summery white.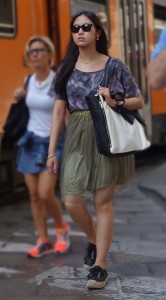 In New York City this summer, I spotted some adorable ensembles with flat-platform sandals. This is definitely a style I can embrace: comfy-girly! Don't they look great with a lightweight summer dress? And with a reasonable height, the heels seem cushy enough for long urban jaunts.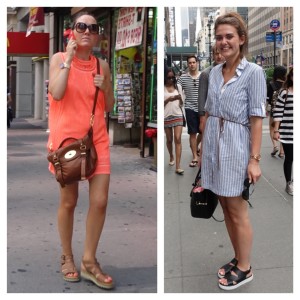 Lastly, I want to share a look I would instantly incorporate into my wardrobe (given the chance!) Ideal for summer travel – walking through airports, boarding shuttle buses, and sitting for extended periods of time – this ensemble does not sacrifice fem for function.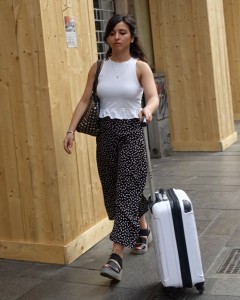 While not all of us will find the Stella McCartney footwear, featured above, to be consistent with our personal style, Birkenstocks are certainly not the only thick-soled game in town. I hope you are inspired by the muses above who don white and chunky soles in style.
XO, Janea