Is this really autumn? I'm not sure. This weekend I enjoyed Bill Cunningham's slide show tribute to autumn in New York (check it out!), and have heard of the recent peak autumn foliage in New England. Must be awesome! But here in the San Francisco Bay Area, we have…well, sunny weather and temperatures in the 60's. Sure, it's a bit nippy at times, but now that I think about it, it is barely fall in California. So, how do we Californians change it up even while there is barely a change in the temperature? (Drum roll, please.) We wear scarves!
This past weekend in San Francisco's Union Square, temperatures were in the low 60's, and the streets were packed with scarf wearers. Many wore clothes appropriate for summer (San Francisco summer, that is), and they simply added a scarf to the mix. Hey, it's a great way to keep warm with an extra breeze here and there. Seriously, when my neck is warm, I can get by with much lighter clothing elsewhere.
Another great thing about scarves is that they allow for more color. People tend to wear darker colors in darker months. I have some things to say about that in another post, but it will suffice to point out that if your outfit is a bit drab, you can at least wear some color in a scarf to bring out the best in your coloring and features.
My colleague Alyssa (pictured below) wears a brilliant green/turquoise silk scarf. Don't you love the way it adds spice to her black blazer look?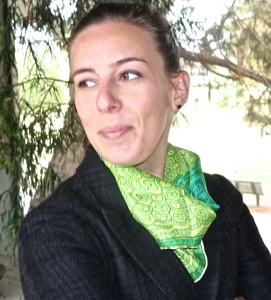 Another colleague Layla is also clever in combining a lively scarf with her all black suit.
Pictured next, the infinity style of scarf is one of the easiest to wear. No twisting or tying necessary. Of course, if you want a tutorial for a million and one ways to wear a scarf, I recommend this post on gurl.com. Notice how the brick red scarf livens up the outfit and brings out the auburn highlights in this muse's hair.

I love these colors. They are almost an exaggeration of the hues we still see in California: blue skies and golden hillsides (not too many autumn leaves). The scarf is certainly not necessary to brighten this ensemble, but it nicely matches the jacket and tights, don't you think?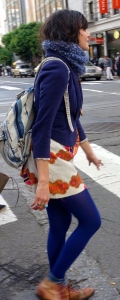 The turquoise scarf shown above is a beautiful color accent with the white satiny top, skinny jeans and sandals. The color is very flattering next to her face, and you might notice that even a very simple half-knot in the scarf looks quite stylish.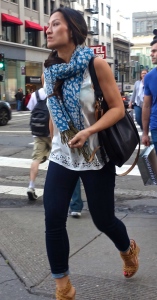 In general, I am not a huge fan of pink clothing on a redhead, although other colors in the scarf shown above make it very doable. Next to this muse's light skin, the scarf of intense colors might also have been overwhelming if it weren't for the cream colored jacket. This is a great balancing act!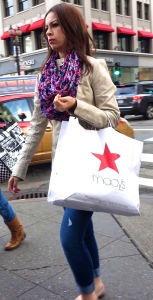 This next look illustrates another winning color combination. This time, the scarf acts in conjunction with the boots, handbag and cocktail ring (on her right hand) to provide brown accents to her black apparel. The combination might not be as vibrant as others, but it brings out the beautiful honey tones of this muse's skin.
I simply had to include this photo of a scarf-donning gentleman, since I spotted a few like him. This one wears what seems to be a Burberry scarf, which coordinates well with a purple sweater. (Yellow and purple are complimentary colors.) This muse looks quite dashing in his plaid scarf and flat cap.

The scarf shown above hangs straight down, almost as if it were a cape. It adds to the outfit an interesting design and a third beige color and so nicely pulls the outfit together. Without it, the red top would simply chop the silhouette in half, but the black vertical line created by the scarf visually elongates the look, adding height to this petite lady's stature.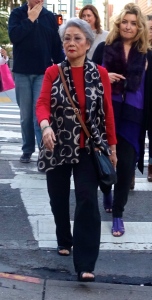 The next scarf of greens and pink are a gorgeous combination (especially with this muse's coloring) atop a purple sweater framed by a black jacket, black handbag and black skinny pants. The shoes are also a nice touch: dark grey with lilac colored straps.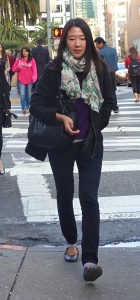 Although I am not exactly drooling over this handbag (let me guess: vintage inspired?) I like the way very ordinary elements are brought together here – beige trench, ripped jeans, cheeky sneakers (nice color!) and black and white scarf – to produce a part traditional, part hip look. If I were to make a single modification, I think a bright blue and green scarf would completely rock this outfit, don't you?
I love the sophistication of this next weekend outfit. The white button down blouse with interesting circular details, dark denim skinny jeans and brown blazer are accessorized in such a polished manner with this multi-colored scarf. The colors really flatter her golden blonde hair and healthy complexion.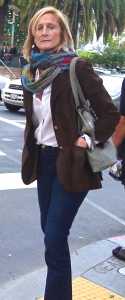 The young woman featured next wears her scarf in a very contemporary knot. Not only does it look cozy, but the colors provide a flattering contrast to her beige coat and light colored features.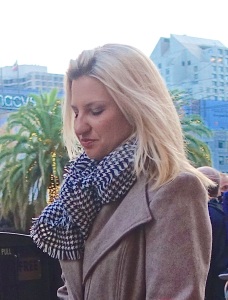 Our last muse wears a scarf with hues similar to those in her sweater. This clever coordination creates a very sophisticated look, and the palette flatters her natural coloring.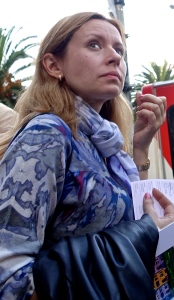 For this so-called autumn in California, the scarf is seriously the way to go for staying comfortable when a cool breeze hits, when you wish to add a burst of color to your outfit or if you simply want another accessory with which to play for creative coordinating. As the temperatures drop further – thank goodness that won't be extreme here in the San Francisco Bay area! – we can move on to thicker, maybe even cozier scarves. 'Tis definitely the season!
XO, Janea
---