Normally, I steer clear of extremely popular or trendy looks. It doesn't go with my commitment to follow a more European approach to style by purchasing only occasionally an item or two of fine quality and taking care of those I already own. In the long run this saves me tons of time which I can engage in other creative endeavors (like blogging). And on the whole, I've always valued quality over quantity. However, I am super inspired by something I am seeing a lot of in San Francisco: rolled up jeans.
Yes, rolled up jeans are stylishly casual. That little cuff elevates them to a whole new level of coolness. I am always fixating on maintaining a continuous line/silhouette, and that roll at the bottom does break up the line of the leg, but there are other ways of elongating one's look, and for the cool quotient, I think it is worth exploring them.
Just take a gander at these examples.
The woman pictured above has no need to appear slimmer, but the dark top and dark jeans do give her an ultra slender – and by the way, classic – look. The polychromatic tote bag and colorful flats are the perfect pops of color. As a friend recent mentioned to me, it is important to limit your "pops". If your top and your shoes pop, your skirt or trousers should not, for example. Otherwise, this friend stated, you come off as "a bag of pop-rocks": not stylish. Notice how the roll at the bottom of the jeans draw attention to the flats.
The woman pictured below has a larger cuff. This also works. The eye-catching necklace and white top draw the eye upward, and so, the large cuff and satiny leopard print ballerina flats act as a counterbalance by adding interest to the feet. Notice how the cuffs on her jacket sleeves also increase the cool factor.
The lovely lady below demonstrates cuffed jeans in a wintergreen color with shorty boots. Rolled up jeans go oh-so-well with flats, booties or fun/sexy heels. We have a total break up of the line (of the leg) here, but this woman pulls it off. While wearing rolled up jeans, it really works best, in opinion, if there is some skin showing, don't you think? I am amazed by how closely her handbag matches the pants, but I could also see her rocking this ensemble with a multicolored handbag or one of a contrasting color: maybe reddish purple?
The shorty boots below were featured in an earlier post about boots. I include the look again, because the cuff is indispensible for showing off these vintage riding boots. They are also in step with the bohemian style of the outfit.
The stylish ladies pictured below show again how perfect rolled up jeans are for shorty boots. What an improvement over pants which drape over the top of the boots! And the look is flirty.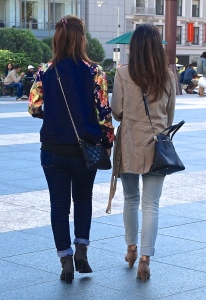 As you can see above, the woman to the left is not heavy-set by any means, but neither is she a walking stick figure. Skinny pants and jeans can be harrowing for anyone who is self conscious about larger-than-model-sized hips. They not only follow the exact shape of the leg; they accentuate any wideness of the hips and butt. If you about to give up entirely on skinny pants, I would recommend trying cuffs.
You can see in the picture that the cuff creates a counterbalance, providing some heaviness at the hem, as you would have with wider legged pants. The cuff also creates a visual distraction from the hips/butt area. The vividly colored sleeves on the woman to the left also create a beautiful sense of proportion and balance, don't you think?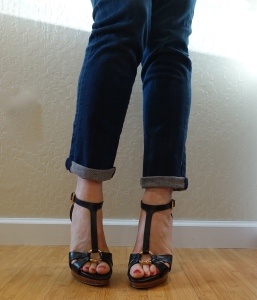 Pictured above are rolled up jeans with Ferragamo high heeled sandals. To increase the sexy/flirty factor while getting that cool effect, I find I am liking sandals or pumps that are somewhat playful or with some oomph. I tried out the look with my favorite heels: a pair of black patent leather Jimmy Choo peep toe pumps: not a match! They were too conservative/boring for this look. I also realized that a delicate heel requires a smaller cuff.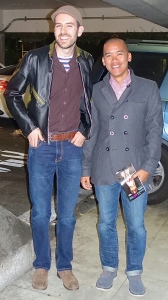 The two men pictured above were attendees of a fashion/art show, and I must say they look quite dapper. The cuffs on the pants to the right draw attention to the wearer's stylishly casual shoes and definitely spice up his outfit. The jeans of the one to the left are not rolled up, but I believe that is a good thing. His cap, two-tone leather jacket, striped t-shirt under the button-down and contrasting shoes provide just the right amount of "popping".
This gentleman looks great in a jacket and rolled up jeans. The cuffs draw attention to his stylish shoes with red laces. It is a nice blend of classic and contemporary.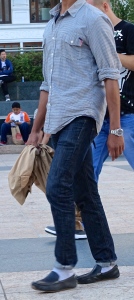 The gentleman's cuffs (shown above) are a little sloppy. It might have been helpful to iron the cuff or at least roll it more carefully so that its size were more consistent. He also illustrates a way rolled up jeans should not be worn: with socks…ever! If it weren't for these details, this man would look quite presentable.

The adorable woman featured above was photographed this past summer and featured in a post on alternatives to yoga pants. Her jeans are rolled up to a capris length and contribute to a breezy, classically Parisian look. I don't think this look is as appropriate for fall and winter, but it is an interesting variation on the rolled up jeans theme.
As my friend Erin describes it, the look above is "all sorts of wrong". I have to concur with him. I don't quite get why the jeans are rolled up this high. And then wIth such an enormous variety of comfort/walking shoes, there is no excuse for wearing athletic sneakers with the outfit.
As we can see, rolled up jeans topically work best when they reveal just a glimpse of skin between footwear and cuff, and although they undoubtedly make for a casual look, getting too casual (at the expense of style) – with sneakers or most flip flops – ruins the effect. The footwear of choice is something which deserves to be showcased.
I am super inspired and thinking I can have fun with this look. Since I already own a pair of skinny jeans, I might not have to deviate from my new habit of limiting my closet. I can simply wear them with different shoes – especially shorty boots!
What are your favorite ways of wearing rolled up jeans?