As we say our arriverderci's to winter, I had a thought, "Why not send off the season with a  a vote on 2014's ugliest boots?" Check out below some prime specimens I spotted in Boston and San Francisco.
Perhaps you have seen or even own (woohoo!) a more hideous pair? Feel free to send me photos (janea@cruzio.com) of any potential new contestants!
As it stands now, there are five runners-up and three finalists. Of the three most vile boots I spotted in 2014, I invite you to cast your vote below.
Runners Up
8) Ugg or Ugg knockoff?

I cannot tell, I confess, but after reading my Ugg post, you will see why I don't trouble myself with those details.
7) Doc Martins are soooo feminine…not!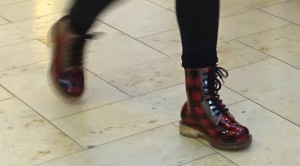 Do they get any more lumberjack than this?
6) Was the shearling edging really necessary?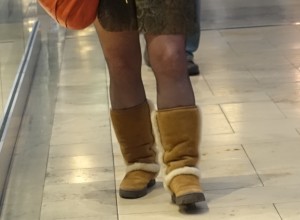 I certainly wouldn't forego the coffee colored hosiery though, would you?
5) Barbie Meets Sasquatch!
4) Boots designed for "tromping in the backwoods of Maine", not the mall.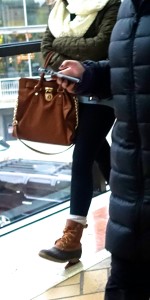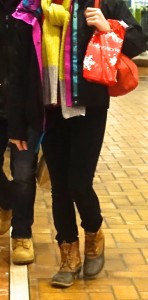 All the same, I would rate them a bit higher than some of other lovelies here, since part of me recognizes they could be useful while slushing through snow heading to and from the car.
The Finalists
3) Just plain ugly, but the plaid skinny pants were a nice try, eh?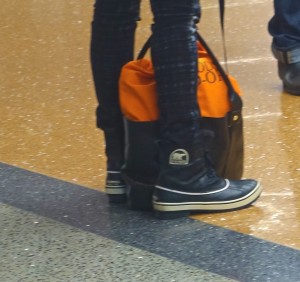 2) The boots top off this look: urban combat.
Potential muggers are a little put off by this ensemble. Not the first thing I think of, however, when I am reaching into my closet for an outfit for the day.
1) The winner in my book, but don't let me influence your vote.

Notice how the ragged hole in the knee of the jeans is echoed by a bare leather boot tongue surrounded by woolly edging.
Vote here!
Since dreadfulness is in the eye of the beholder, I would love to hear your thoughts and receive your vote.