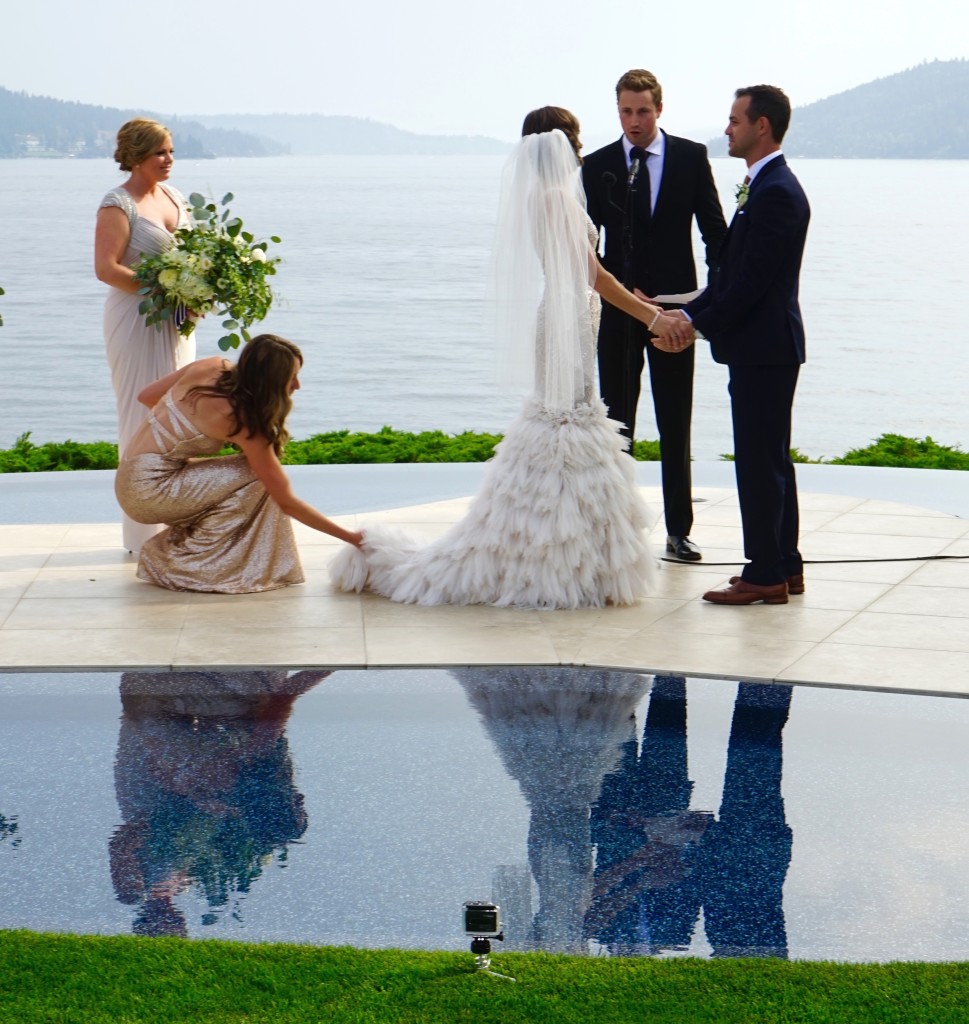 How many weddings have you attended this summer? Have you ever exhausted yourself searching for an appropriate dress? I was recently invited to a family wedding at the side of beautiful Lake Coeur d'Alene in Idaho. Temperatures were forecasted to be in the 90's, and the unspoken dress code was "summer formal".
If you caught my post about being a "creature of comfort" in June, you will totally understand my predicament. Why is it that formal summer dresses tend to be lined in fabrics which don't "breathe" or which require a thick strapless bra that becomes hot and painful to wear.
After much searching for something under $800 and finding nothing that caught my eye, I was getting desperate. As an interior decorator, my favorite training came through Lauri Ward and her method of Use What You Have™. I decided to apply what Lauri taught me and started digging.
I didn't dig through my closet. I dug through cardboard boxes, colorful plastic storage containers, and a white plastic garbage bag until I found two cuttings of quilting fabric I purchased several years ago. One was 100% cotton (breathable) with a multi-color tie-dyed pattern, and the other was a gold cotton weave with fine metallic fibers.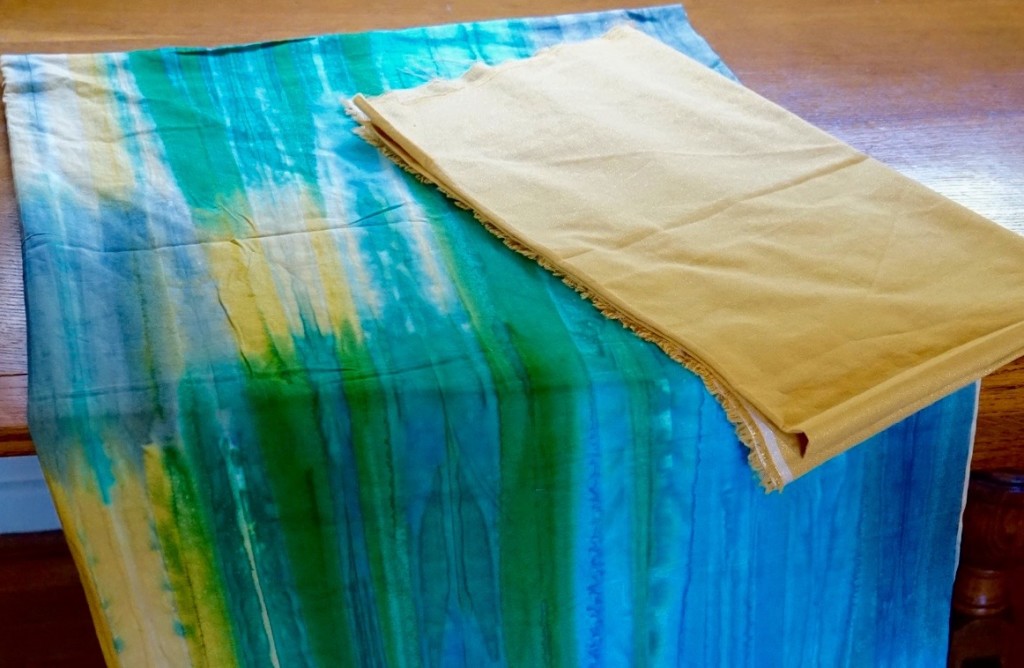 When I originally bought the fabric, my vision was to design a full-length A-line skirt with a mid-thigh center slit. The skirt would be constructed out of the primary tie-dyed fabric, and the gold metallic fabric would line the center slit, so that when the skirt opened, the inside would also be pretty.
My thighs are not what they were when I purchased the fabric, so my old plan was out. I decided to create a high-waisted, full-length, gathered skirt. I still needed something to wear on top, however, and so I turned to the gold fabric originally reserved for the skirt lining. It looked great with the tie-dyed fabric, but TERRIBLE against my face. White would have looked fresh and crisp, but I didn't feel good about wearing white to a wedding.
I searched Seattle's fabric stores (oh how I yearned for Mood Fabrics in NYC or LA!) Options were limited, and so, I settled on a lightweight grey cotton Swiss dot and a turquoise floral netting fabric.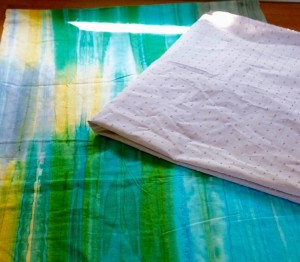 I thought of layering the turquoise netting over the grey Swiss dot. Although the grey cotton was bland, it didn't cast a pallor of death over my face, as did the gold. But when it came down to cutting and sewing, I just couldn't bring myself to put that unattractive combination together.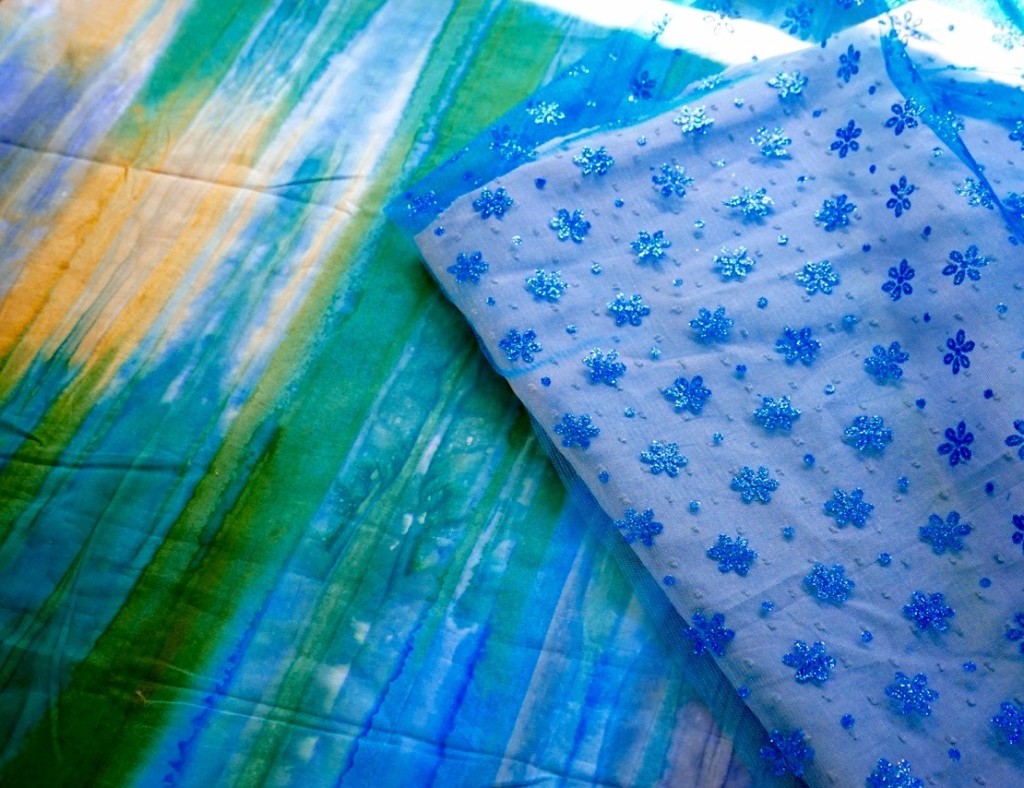 I left the fabrics folded on my sewing table while I took time to figure things out. A few days passed, and then it occurred to me that the gold fabric would be just what I needed to line the turquoise netting for a top.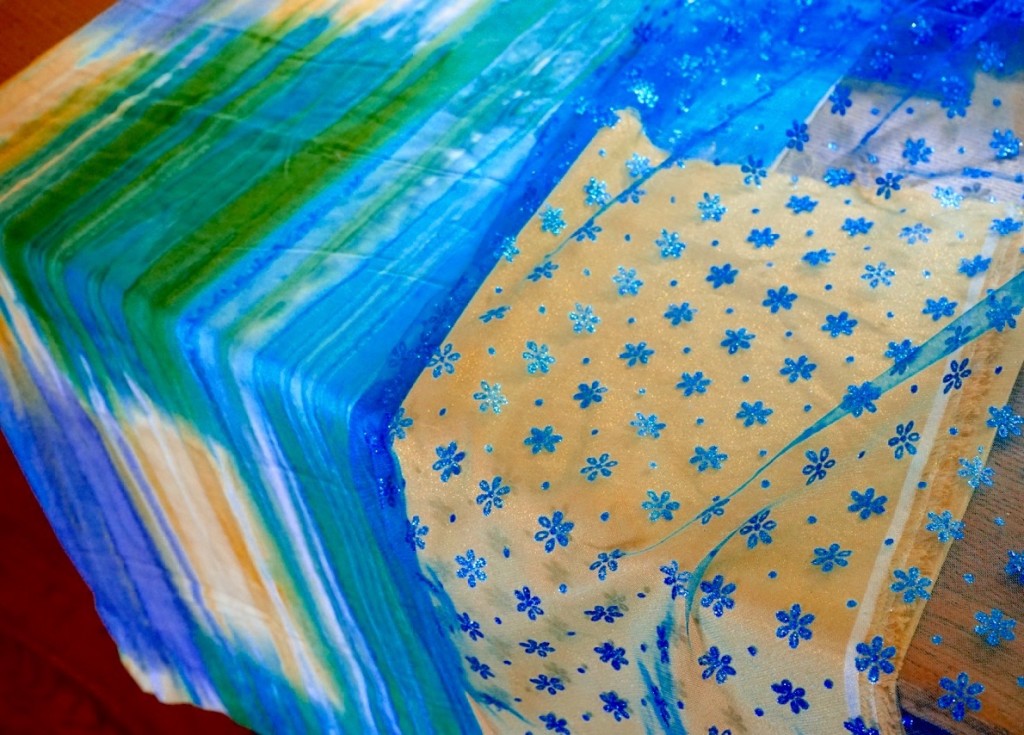 I loved the idea of wearing a cropped top with a full skirt but was unable to find a pattern and didn't have time to experiment.  I could not crop the top I made, because the zipped opening would have become too short, making it impossible to fit over my shoulders.
I planned on wearing the top untucked, but it created a frumpy and shapeless silhouette.  So this is how I wore it: the top tucked in to create a dress effect. It isn't couture, that's for sure, but I love the colors, it was comfortable; and it fit in with "summer formal." And it was extremely affordable!

All in all, my outfit was a success! I love the colors, it was comfortable, I received multiple compliments from strangers, and I used what I had!
Psst! If you want to read more of Melissa's wonderful writing, check out her new blog, Hey, Girlfriend! – Janea