Next time someone looks me up and down and asks, "Where's the funeral?" I have the perfect answer – or rather, counter question: "Tell me, what could possibly be more chic, more elegant, more cosmopolitan, more discreet and sophisticated than black?"
Black is the bomb! And all black is even better. It is a show of fierce individuality and oftentimes edginess. It is reserved for the utmost formal and most blatant rebelliousness. Certainly not something about which to make lame jokes! I would like to invite you to check out 14 reasons to wear all black whenever you *** feel like it: I hope you enjoy taking in the black awesomeness of the following 14 muses.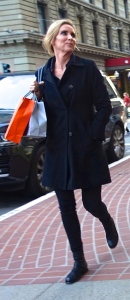 There is a famous photograph of Princess Diana in a black turtleneck which is permanently engraved on my mind. Do you remember it? To me, it is the height of beauty and elegance. The woman pictured above recalls that image. Black flatters almost everyone, I believe, but does something very particular to blondes, drawing extra attention to the eyes.
Our next muse's sassy all black ensemble consists of a micro mini skirt with heavy sweater, wide rim fedora and over-the-knee boots. Although at first glance the exposing of the thighs might appear a bit risque, low heels and covering up everywhere else steer her clear of "trashiness". Instead, I'd say she looks quite retro-mod. 
The dude pictured above almost looks like a contemporary dancer to me – at the very least, artsy and creative. Not a bad image to project, eh?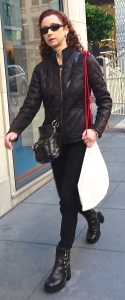 Doesn't our next muse look "bad" in her motorcycle style boots, black skinny pants and quilted black leather jacket? The white bag with red draw string is just a minor digression. (It would it be hotter if everything were black, in my opinion.)

Check out a lovely (sweater) LBD with black tights, boots and handbag pictured above. Black isn't just awesome for lil black cocktail dresses, now is it? Although I like the concept of a sweater dress (being able to wear a dress and feel extra toasty), I usually avoid them and the extra 5-10 pounds they visually add to my figure. Sleek/slimming black, however, mitigates that.

No need for color here…although the red lips are an awesome touch. The next muse pictured above looks so modern-day Audrey Hepburn, don't you think? While the outfit is not complicated, it looks perfectly put together and chic: black scarf, black top, black skinny pants, black boots, black handbag. I especially dig the more feminine version of work boots.

Now why did our next muse have to go ruining her perfect outfit with brown shoes? Black ones at the cobbler's? I'm at a loss for another plausible explanation. The leggings and cape look nearly as comfortable as yoga pants while being exponentially more stylish.

The muse pictured above has a seriously styln' look. Her above-the-knee boots are an exquisite fit – polished looking rather than slouchy or too roomy. Her bracelet and handbag, both black with gold details, dress up the ensemble, of which my favorite part is the BIBA logo tee. I love how even a t-shirt looks elegant with other black garments.
Interestingly, the London fashion store Biba in the 1960's and '70's had the reputation of using "Auntie Colours" which were reportedly reminiscent of funeral attire. Cool!
Speaking of polish, the look of our next muse is far beyond ordinary. The ultra feminine cut of the coat pictured below resembles a dress, and although it features some serious texture (furry details have the potential of expanding the silhouette), black gives it a sleeker appearance. It also looks uber chic with over-the-knee wedge heeled boots and tights. Style is definitely not sacrificed for warmth here.

Our following three muses demonstrate the successful pairing of a black jacket with black leggings/jeggings. Can you imagine how much hotter they would look if their handbags were also black?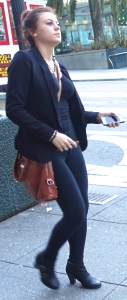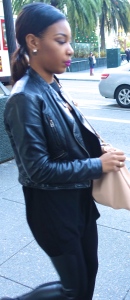 The circa "The Graduate" era ensemble illustrated next is quite compelling, don't you think? Love the pairing of two tone pantyhose (giving the illusion of over-the-knee highs) with chunky heeled Mary Poppins ankle boots. It is wonderfully individual (read: stylish).
Platinum colored hair is highlighted by the contrast: Dressed from head to toe in black, our final muse gets everything right. Stunning!
Renoir also got it right when he said, "Black is the queen of colors." While wearing all black, color is no longer a distraction, and subtleties are more likely to be noticed. Mixing textures is more fun as is becoming a tad more dramatic with eyelid or lip color. If you have a light (or bright) hair color, wearing all black will naturally draw attention to that.
We don't even need to talk about the little black dress to extoll the virtues of wearing all black. But I must say that in my opinion, Audrey Hepburn epitomized the look of elegance with her iconic LBD by Givenchy for Breakfast at Tiffany's. Seriously, what could possibly be more chic? Not what I would wear to a funeral, but drop dead gorgeous!