Is it just this amazing heat wave or is it that sandals and flip flops aren't just for summer anymore? (And to answer your question, I most certainly have a shoe fetish!) Yes, they are everywhere: flip flops, Birkenstocks and other low heeled sandals. While of late I am a much bigger fan of high heels – I mean, there is nothing like the way they make a leg look – I am opening my mind more and more to the possibility of pulling off an awesome look in low-heeled sandals. Once you see some of the muses below, I'm sure you'll agree.
Let's start with good ole – ugly! – Birkenstocks.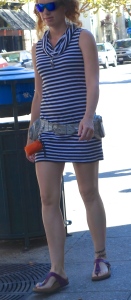 They do grow on you, don't they? Actually, this woman looks fantastic. The fact that she is wearing these shoes (rather than stilettos) allows her to get away with that short short hem without looking trashy.

Since Vogue gave Birkenstocks a thumbs up last summer, the shoes have become widely accepted for stylish urban wear. This past summer, Amazon's UK division reported "a 95% rise in sales of all varieties of the sandals in the last few weeks…"(http://www.theguardian.com/fashion/2014/jun/15/birkenstock-sandals-shoes-fashion-industry) and Givenchy has even come out with high end knock-offs of the Arizona style. Who would've guessed?
It seems to me that if you are revealing beautifully-shaped gams, a shoe as basic as the Birky will not be a hindrance to looking great. It is important that they be worn with a somewhat sporty outfit, and it seems that showing a lot of leg definitely helps.
Now the look pictured above is what my friend Erin refers to as "all sorts of wrong". The shoe is simply too wide – hence their ultra comfortable fit and feel – to feature at the end of a skinny pant. The look is a hugely distorted silhouette which reminds me of Olive in the cartoon Popeye!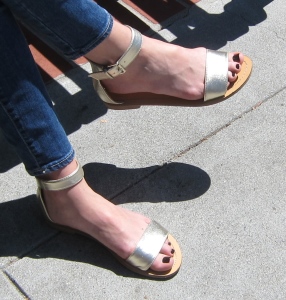 You can see in the photo above that sandals just a tad narrower are a much more flattering option with skinny jeans. It is also helpful for the hem to just hit the ankle for a much cleaner look.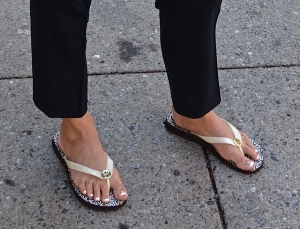 It is good to keep in mind that flip flops like these (above) cause foot damage: the lack of support can bring on tendonitis, plantar fasciitis or other foot pain. Necessary modifications to your gait (to keep the bloody things on) can lead to issues of the ankles, knees, hips and back. I won't even go into what I've read about bacteria, although they can also protect you from that mess in the gym locker room.
I grant you they are great for giving off a laid back, beachy vibe, and exposing your feet to the air just feels good on a hot day. But I recommend limiting them to days at the beach or short walks.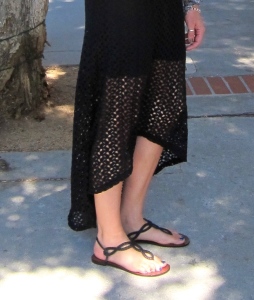 A modification to the flip flop idea, shown above, is a huge improvement. With a strap around the back of the ankle, you can manage longer strides, and the low, rigid heel provides much more support for walking or even just standing.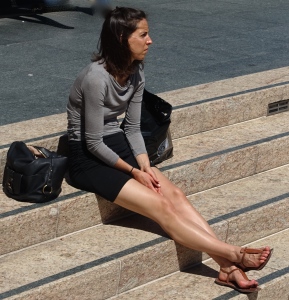 Tan and nude colored sandals are really flattering, as they visually lengthen the leg. The strap going from the toes to the ankle causes the same effect.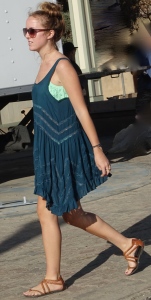 Of course, flip flops and flat sandals are the best on the beach for keeping your feet from grilling on hot sand. In a tan color, they combine well with just about any color of clothing.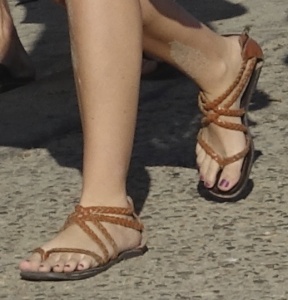 The beige sandals pictured below have a fun design. Although I might prefer to see fancier sandals with this dress, a friend pointed out the dress's "Logan's Run" style; I think that might explain why I like the dress and sandals still seem to work for me.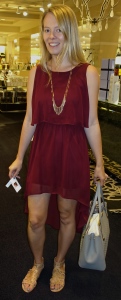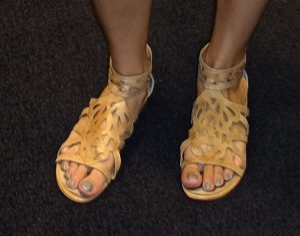 The skirt and footwear of this next muse (below) are perfectly coordinated. The sandals are Moroccan, and the look of the linen dress with large white sash are a beautiful accompaniment.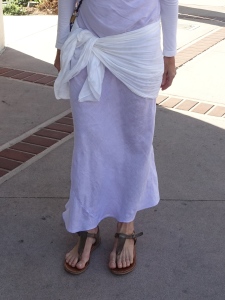 This last dress with flip flops is a bit of a shoe flop, I am afraid. I love this lady's striped dress, but I believe flip flops would look much more suitable if its hem were either shorter or longer (a maxi or mini dress). The lime green color also competes with the bold stripes, causing a "bag of pop rocks" effect: too many pops of color. I would prefer a dressier white or black sandal here.
With the San Francisco Bay area experiencing blistering hot days, we have to be practical. Low-heeled and flat sandals, flip flops and even Birkenstocks can be the perfect adornments for the feet. They will never compare to the elegance of a high heel, of course, but sometimes a girl has to get around!
XO, Janea
---
????