Happy Friday everyone! I am so looking forward to our weekend of yoga (the Seattle forecast is – not surprisingly! – rain), catching the new Star Trek exhibit at the EMP Museum, and maybe a movie from the Seattle International Film Festival (largest in the U.S.!)
My wonderful seamstress, Cheing, recently updated a pair of jeans – taking the hem of one up and letting another down – and so, I know what I'll be wearing!
Not long ago, I would have never thought I'd be looking forward to wearing jeans. This might sound weird, but when I was a child, my father was my fashion icon. Sure, my mom had nice clothes, but I was beyond proud to see my dad heading off to work in a sharp tailored suit with a crisp cotton shirt underneath.
On the weekends though, he would horrify me, hanging around the house in an old t-shirt and faded, ill-fitting no-brand jeans. Since I also inherited his hips, I've especially avoided the look until I realized that denim can look sophisticated.
Here are 13 examples of awesomely styled denim I've noticed (and shot) in New York and L.A. – when it's sloppy, it's still chic – and my latest jeans makeovers.
1) Let's start with cuffed denim. Cuffed jeans and a black lace top with denim details definitely make for a stylish outfit for walking your dog along Rodeo Drive on a Saturday afternoon.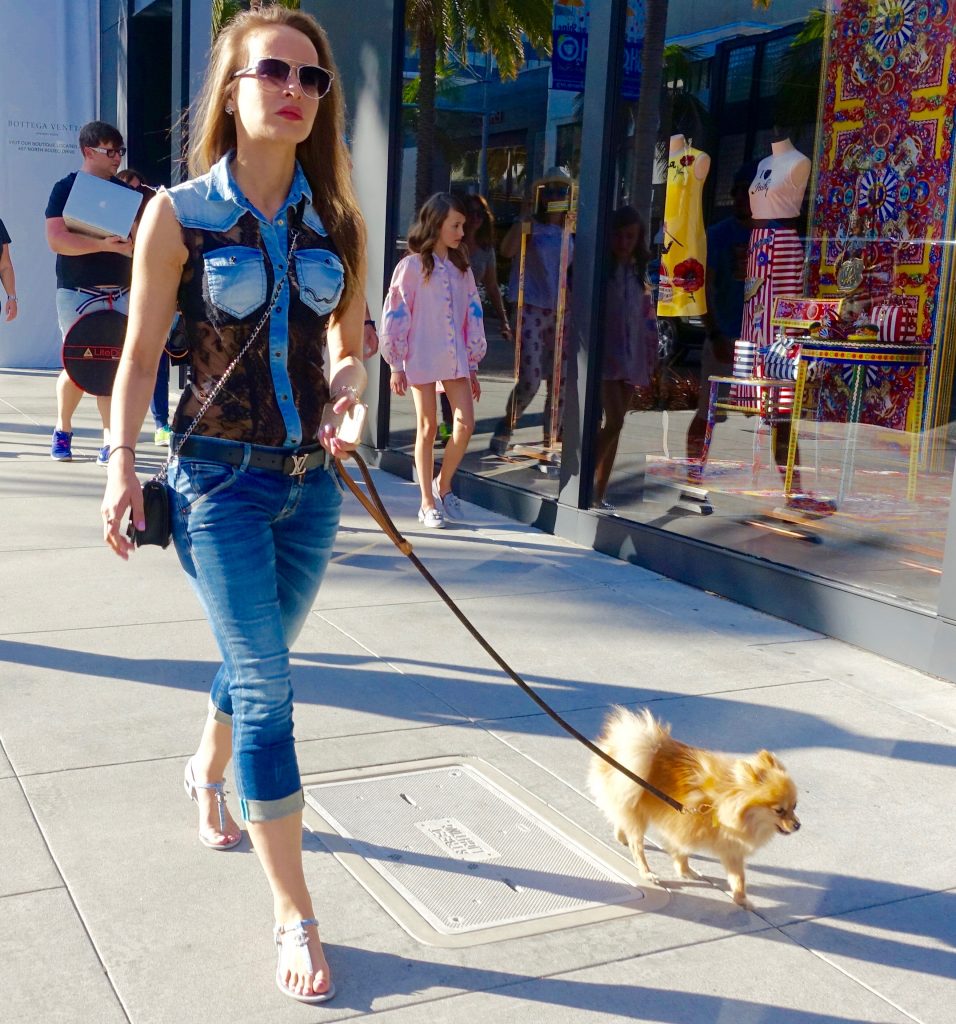 2) Cuffed jeans with an oversized top make for another great (less girly) look. If there is the tiniest concern about schlumpiness, a neck scarf totally up-styles.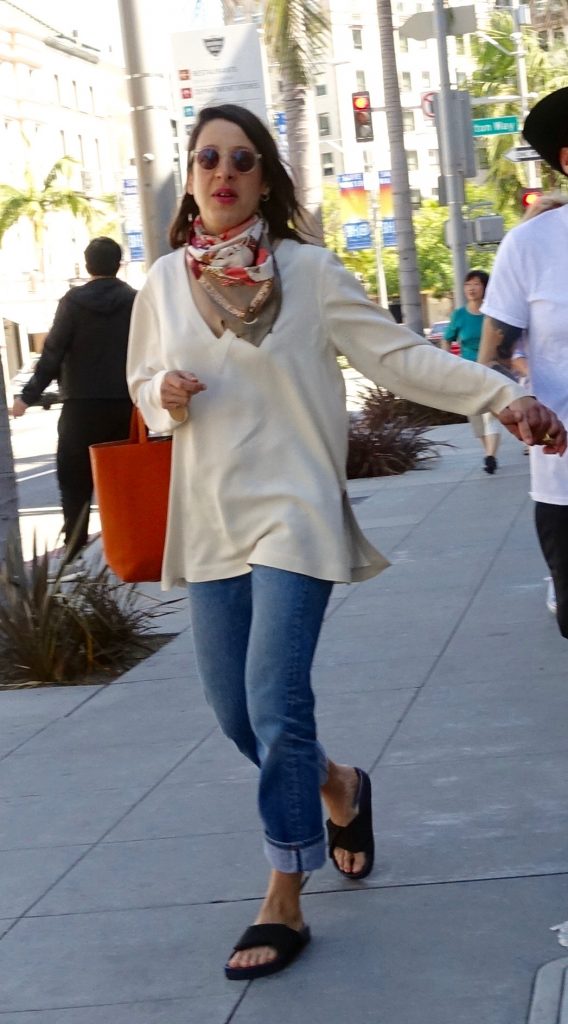 3) I'll bet you've seen plenty of frayed hems on jeans, but how about on a denim jacket? (See example below.) It's new, fun, and a great way to make over your jacket if you suddenly want it cropped.
4) This woman's faded denim jacket gives her floral maxi skirt an extra boost of cool and laid-back.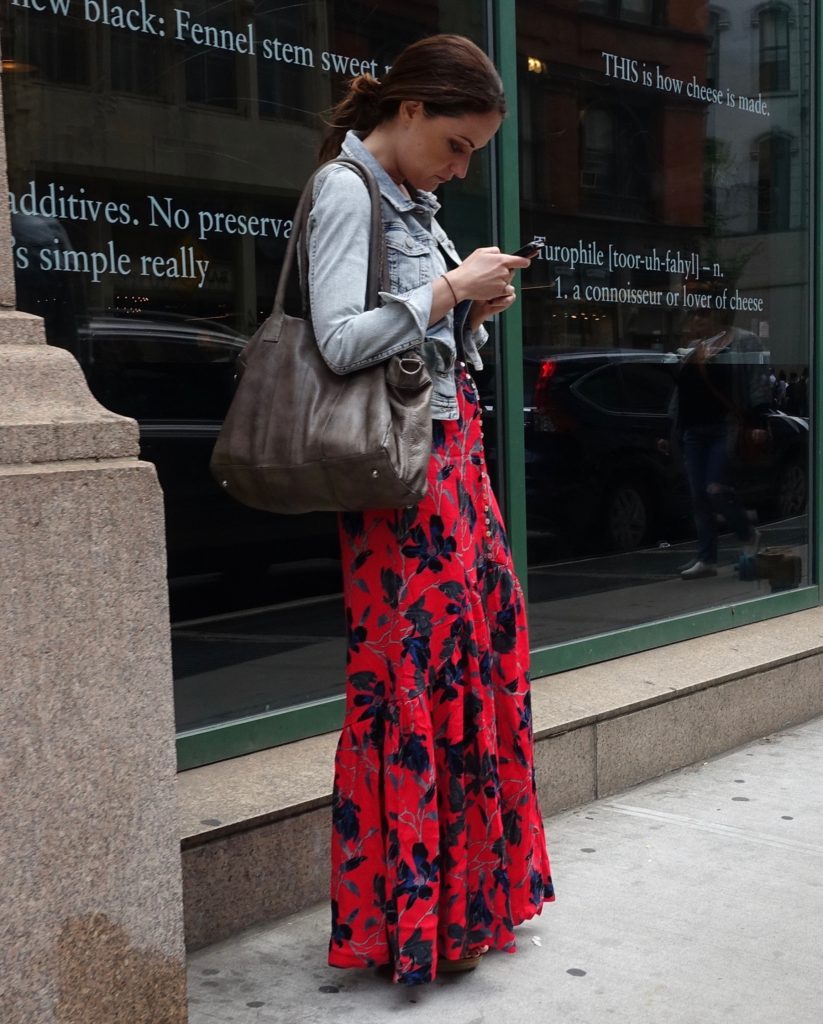 5) Its counterpart to that look for L.A. temperatures would have to be a denim blouse and floral mini.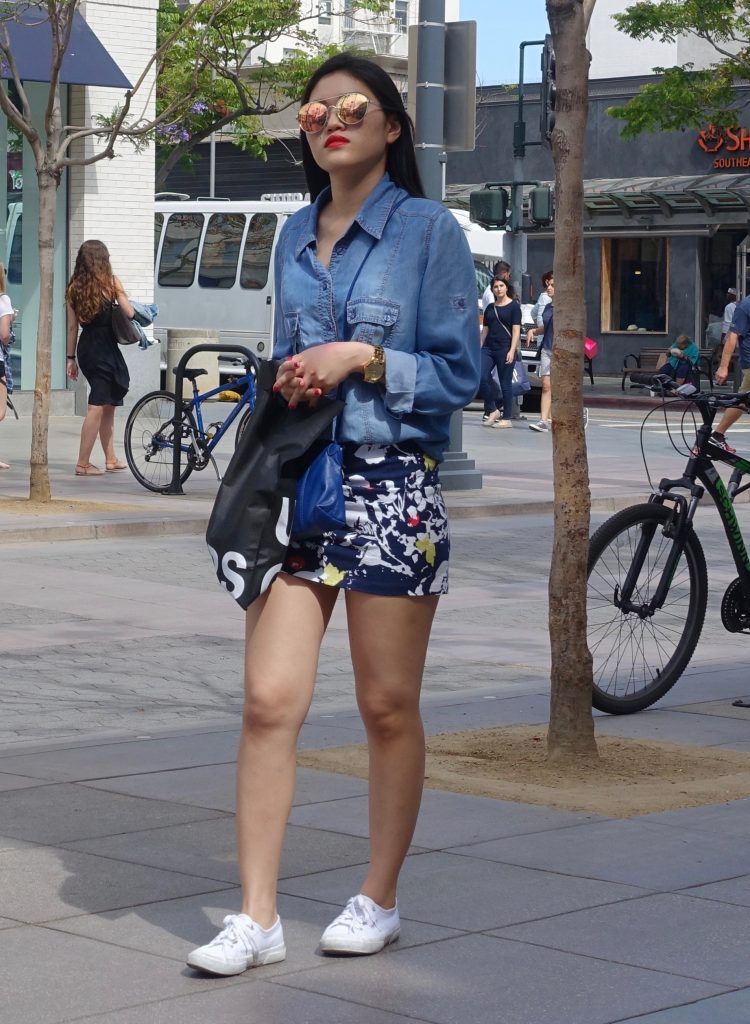 6) Colored denim is another cool, casual option for weekend wear. Nice touches here are a frayed hem (beginning stages) to the left and interesting bands of ribbing at the knees to the right.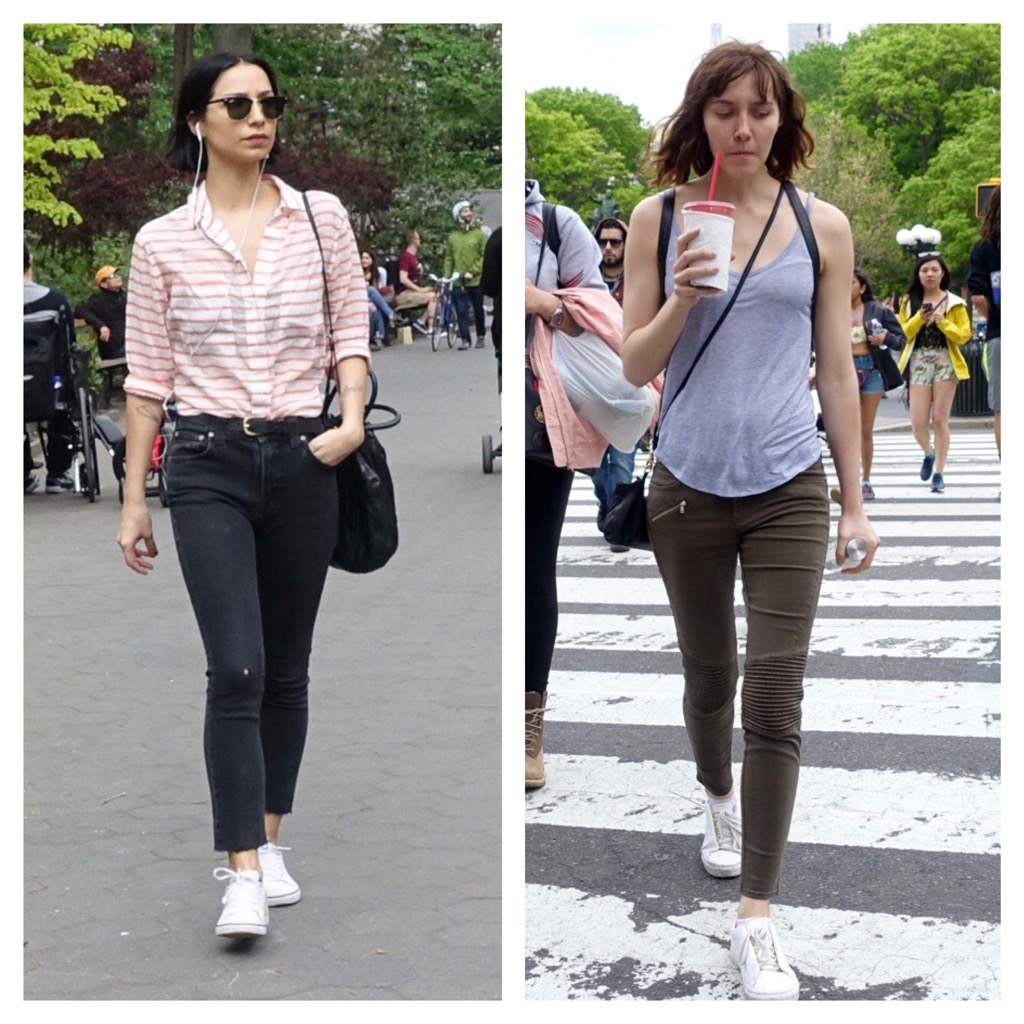 7) Destroyed denim gives a woman an element of edgy trendiness while walking around the Union Square Saturday Greenmarket.

8) For something a little dressier and more polished, non-distressed jeans of a darker wash look awesome with mid-heeled lace-up sandals, a fringy crop top, and Celine mini bag.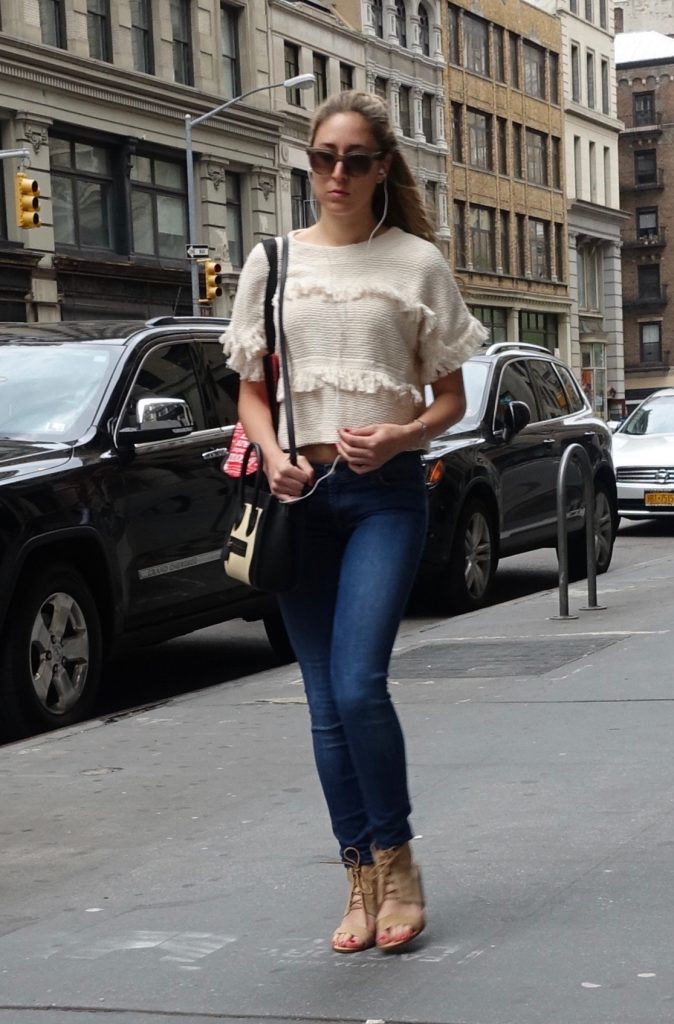 9) On the other hand, you could also go for something in-between.
10) Here's an interesting variation of distressed denim: destroyed cut-offs. I like the way this woman styles hers with very white sneakers, lightweight black tank, and bold red oversized cardigan to create a slightly sexy, very stylish ensemble – in spite of it being ultra casual.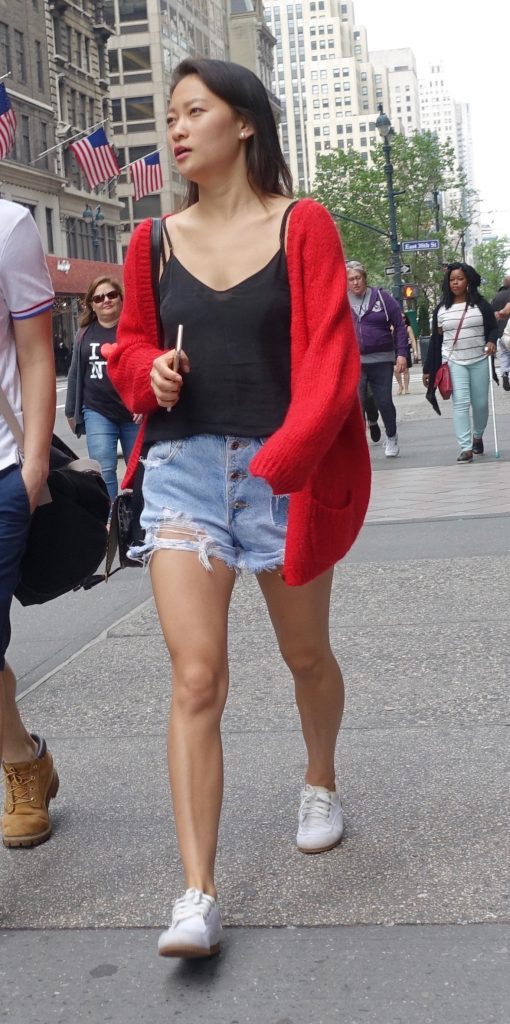 11) Our next muse demonstrates how fabulous a short high-waisted denim skirt looks with edgy black high-top sneakers.

12) I have to say that this is the "sloppiest" look in my collection of great denim street style, but it is so purposeful and thoughtful. The proportions of the sweatshirt and bag are perfectly matched, but skinny jeans keep it from simply looking like a sack of potatoes.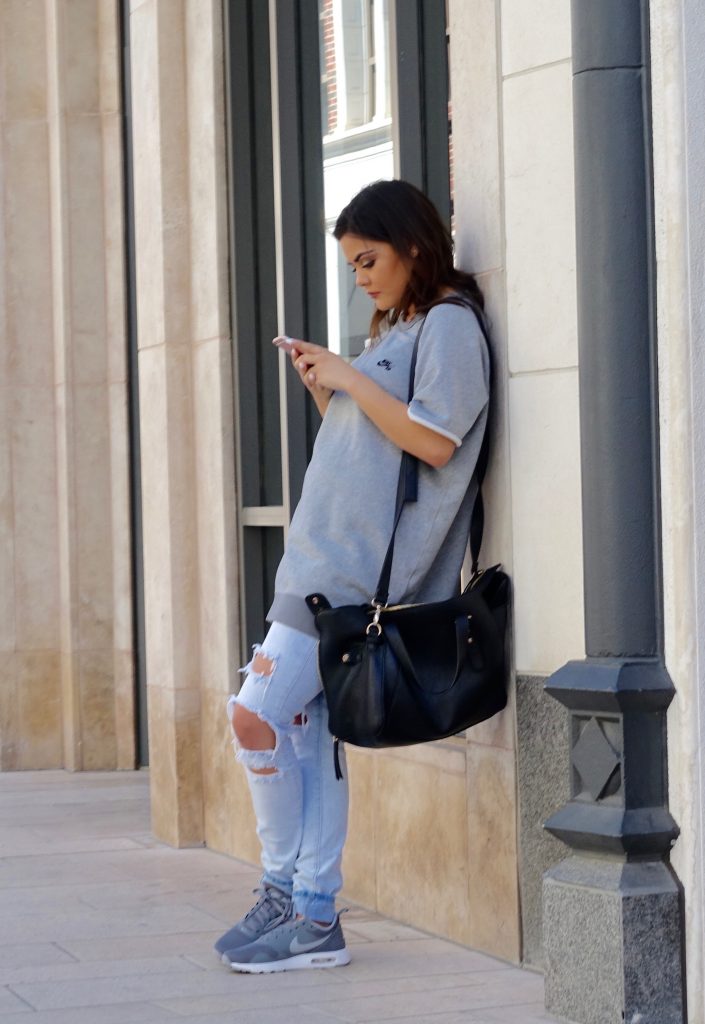 13) Of course, it's impossible to look like a slob in this denim dress with pearl beading.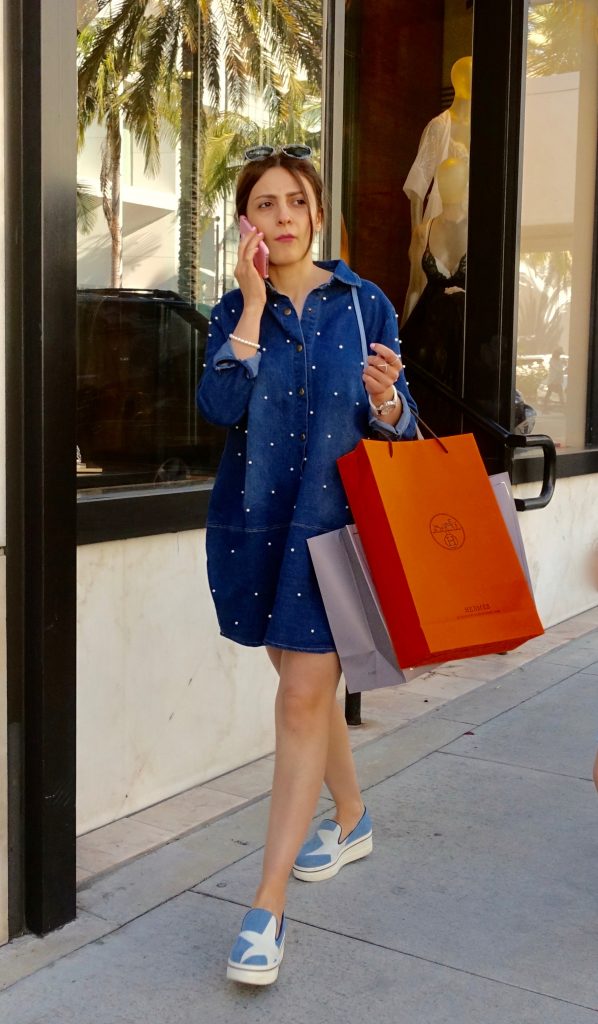 When I read online fashion magazines for inspiration these days, it's denim denim denim. I can't blame the editors – when styled nicely, it's the perfect solution for weekend dressing. You can wear it for going out to lunch or a movie and if you suddenly decide to walk around in a nearby arboretum, for example, you are still comfortable and appropriately dressed.
Here are my latest jeans makeovers with a skinny and a flared pair. The Zara skinnies are chopped off – yes, my seamstress cut them to allow for fraying. I can't wait! Since skinny jeans accentuate wider hips and I inherited my father's, I'll style them with a tunic – on the lookout for one right now. Since it will be at the very least be overcast in Seattle this weekend, I'll get by with this long cardigan (and stash sneakers in the car for a potential arboretum walk.)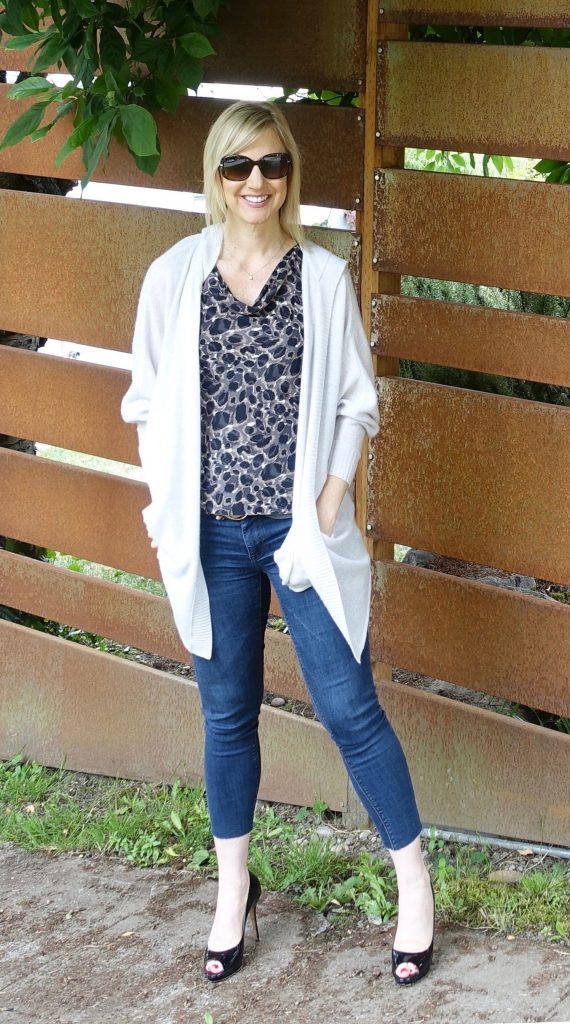 My friend Melissa rightly suggested while seeing me in these J Brand flared-bottom jeans (pre-makeover) that I wear them with lower-heeled shoes. Well, my amazing seamstress managed to lower them for high heels even after they were already once hemmed with an "original hem" in a very reputable store – they don't have Cheing! I prefer flared jeans with high heels and like them to hit the ground. I might actually prefer even higher ones than these, but if the jeans drag and fray, all the more modern!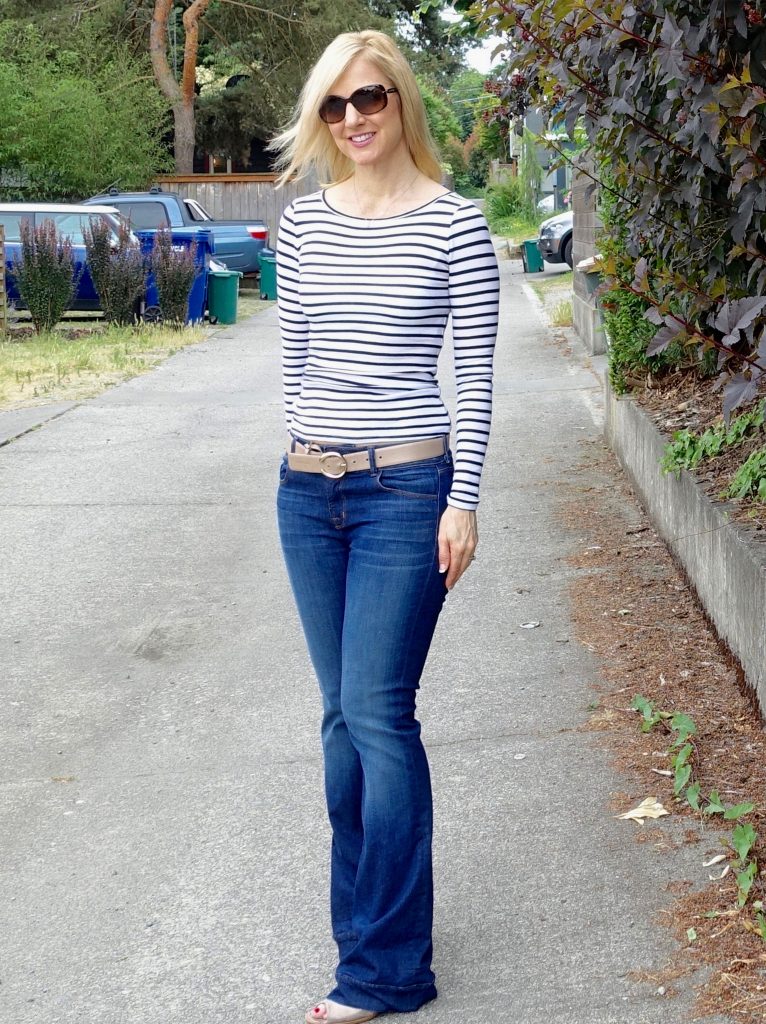 What will you be wearing this weekend? Enjoy!
XO, Janea
Psst! Wanting some new denim? You might want to shop online for…
---
?