Moving to Seattle from California has been a huge shock. Women here are much lower maintenance than in California. I struggle to find a nail technician here who can do my nails as my California lady did, and thank God my California hairdresser found me a local stylist; women here don't generally seem to go to a lot of fuss for a coiff either.
So, I have decided to start wearing white button down shirts again. "What?!" you ask? Wouldn't that be higher rather than lower maintenance?
Here's the deal::
In a quite fair Seattle nail salon in Madison Valley, I saw a woman looking so sophisticated and classy in a white button down shirt. She looked so put together, as though every detail in her life was in order.
For the past twenty odd years, I swore off purchasing anything that requires an iron – save a pleated Valentino skirt which caused infinite angst. But after overhearing that the woman in the white shirt at the nail salon was no less a new mother, I was seriously inspired: if she irons or visit the dry cleaner, why can't I?
Look:
a white button down shirt is instant elegance, even when it is paired with the most casual attire. It is chic and well, grown up.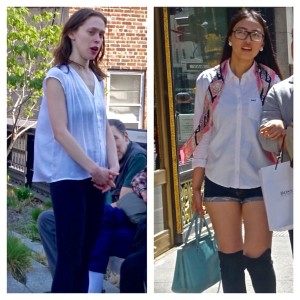 So, here are my ideas:
I will use a white shirt now and then as a wild card to dress up weekend shorts/jeans.

I will untuck the shirt so that I need not worry about it pulling up from pants or skirts. I have noticed how it can even work to reveal some shirt below the bottom hem of a suit jacket.

I will have the shirt dry cleaned or professionally laundered.

I will replace it after a year to 18 months. After all, the point of wearing a white shirt is to have it all white, including underarms.

I might cheat a little and buy an ivory-colored button down blouse, since my Scandinavian skin tone does not contrast as well with pure white.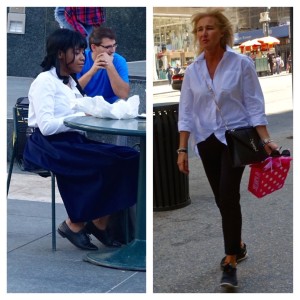 Maybe this is an act of rebellion against the necessity to integrate into (casual) Seattle culture, and maybe it is a bit of acting out grief after departing the sunshine state. Or maybe I am just growing up. Whatever the case, I am seriously reconsidering the white button down blouse. Nordstrom, Barneys, here I come!
XO, Janea
---
????