The other day my fiancé Mark and I went to a French restaurant near our home. The hostess wore white jeans with a billowy blouse and high-heeled sandals. It was a striking contrast to the usual black restaurant staff attire, giving off a cool, elegant vibe. I have to admit, I experienced pangs of envy. The bottom half of my figure is curvier than my top, and so, I avoid accentuating the disparity with lighter-colored skirts and pants.
During recent trips to New York and Milan, I spotted more splendid summery looks with white jeans. Some of them, such as those illustrated by two muses from New York (below), were dark on top and light on bottom, the polar opposite of my usual color placement. Clearly, these women have the physical proportions to pull off the look. And it's a classic!
Although our next muse from New York could also pull off a dark on top, light on bottom combination, her all light-colored ensemble is dazzling. I love the way the orange of her sandals and handbag pick up the peach tone of her tee, while the gold sandal strap adds a bit more polish. As you will see ahead, an all light-colored ensemble is particularly beneficial for those of us with tiny torsos and generous hips who wish to avoid the circus-mirror effect.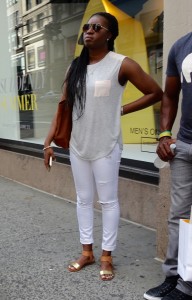 Our final two muses from Milan demonstrate once again these two ways of wearing white jeans, one of all light colors and the other creating two solid color blocks: this time, blue and white. The muse to the left tastefully accessorizes her outfit with Louis Vuitton crossbody bag and saddle brown sandals (accentuating red tones in her hair), while the handbag and flats of the woman pictured to the right wonderfully compliment her tank: similar in hue, but of a greyish tone.
After seeing these muses, I simply had to go looking for those elusive white jeans that work for me. Since fabric and cut vary enormously from one pair to the next, I was thrilled to find at Nordstrom a large selection; I scored a pair in a somewhat stretchy denim with straight leg, which fit me perfectly – especially after a little tailoring at the waistband.
Once I got them home, I tried on the jeans with different tops. Pairing them with a bright red top was unfortunate: the two different colors broke up my silhouette, causing my hips and legs to look disproportionately larger.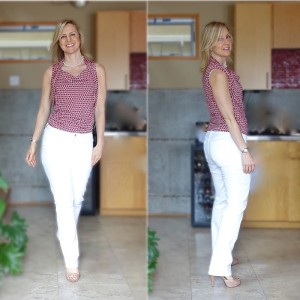 The winner: white jeans with ivory sandals and blouse. The continuity of color – even though it is nearly all white – lengthens the silhouette, while the ruffle of the blouse and its slightly cinched waistline definitely brings me closer to the desired hourglass look.
I am now on the lookout for a top and sandals of a very light shade but slight hue (and accessories to match, of course). It is so nice to know that there are no hard-fast rules when it comes to style. Women with shapely or very muscular legs need not be restricted to dark trousers. No, with just a wee bit of tweaking, even the pear-shaped among us can pull off white jeans!
XO, Janea