When I was 16, Vogue magazine featured cover-to-cover mini-skirts. Mini skirts were back! For a sixteen-year-old, it was a first time, but the excitement was still there. 
I had a sudden urge to wear something "new", playful, and different from everything around me.
I soon discovered, however, that stores were oblivious to my newfound "trend." There was not a single mini for sale! What to do? My mother sewed me a bright red one, which I wore proudly with a puffy-sleeved top (think Deb in the prom scene of "Napoleon Dynamite") and booties.
A recent visit to New York City incited a similar thrill when I observed among the sea of skinny-legged trousers…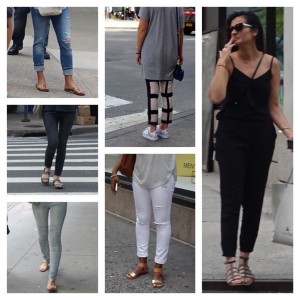 someone standing out from the crowd, someone with a very different silhouette, someone in wide-legged pants!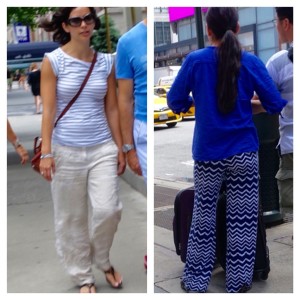 Whether they are culottes or palazzo pants, seeing wide-legged pants brings me back – albeit vicariously – to that experience of symbolically moving forward, of wearing something different from everything around me.
Fashion forecasters have predicted over the past couple of years that these babies will soon force skinny-legged pants into the background, and Gucci featured wide-legged crop pants at Milan's Fashion Week for this season. I'm not sure why they haven't seemed to catch on in New York, at least to my eyes. No matter. I still rejoice in seeing someone in wide-legged pants breaking with the norm. 
And this time around, not only celebrities and Pinterest celebrate the "new trend." They are in stores!