Do you ever get that bug to wear something in your closet even though it goes against convention or fashion expertise? Maybe you just bought a fabulous designer piece at an end-of-season sale and can't wait a full year to wear it. Or you've packed something you were looking forward to wearing on a trip, but then realize once you get there that it is no longer "appropriate" for the weather.
Some of my favorite outfits are those which resulted from having taken a risk, from ignoring what I've been programmed to think is right. And so, I propose that when we get that sartorial inspiration, we try to make it work. Some of my favorite street style seems to follow that pattern – it has something unexpected, but works beautifully. Here are my favorite 5 examples.
1)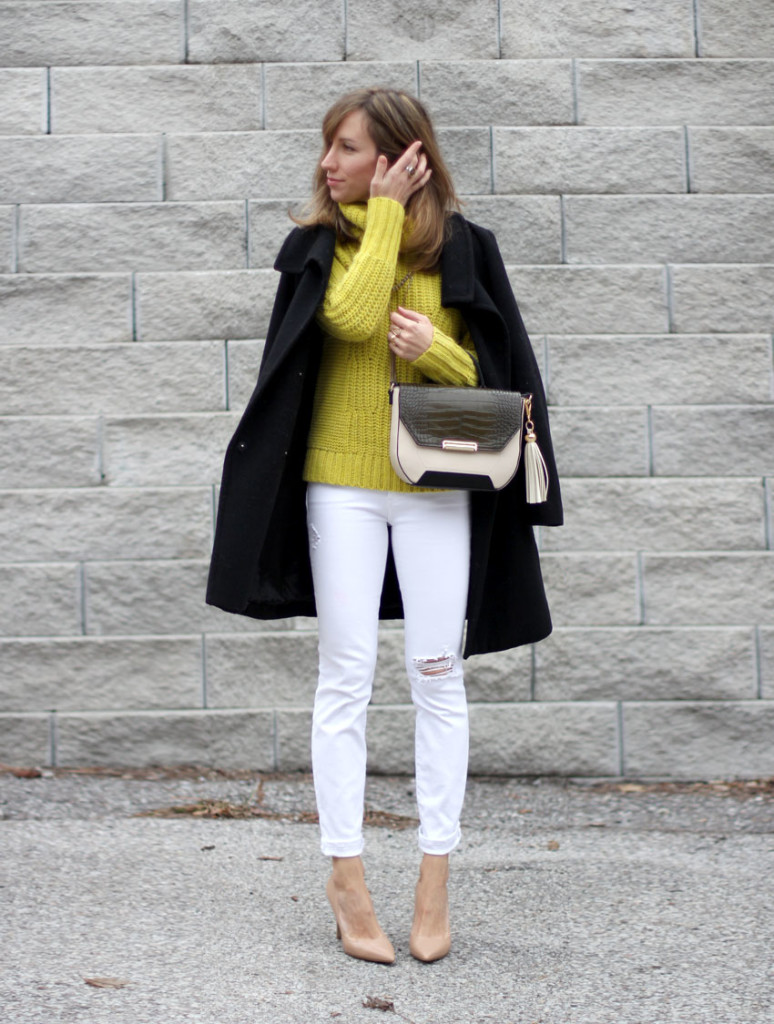 We all know that wearing white after Labor Day is now a non-issue. But how about when we feel like wearing white jeans with nude pumps to expose a bit of ankle in the dead of winter – instead of something more obvious for the season, like tall black boots?
Canadian blogger Cristina of Shoe Tease beautifully demonstrates how to counter that tendency to go completely bundled – and all dark colors! – in winter. I love the way she styles her springy/summery lower half with a chunky yellow sweater, black winter coat, and light/dark handbag pulling it all together.
2)
And then we have Rosa, who I recently spotted on Newbury Street in Boston. I was instantly drawn to her outfit – must have been the chestnut brown beanie, which adds just the right dose of casual and pop of color to this great weekend look.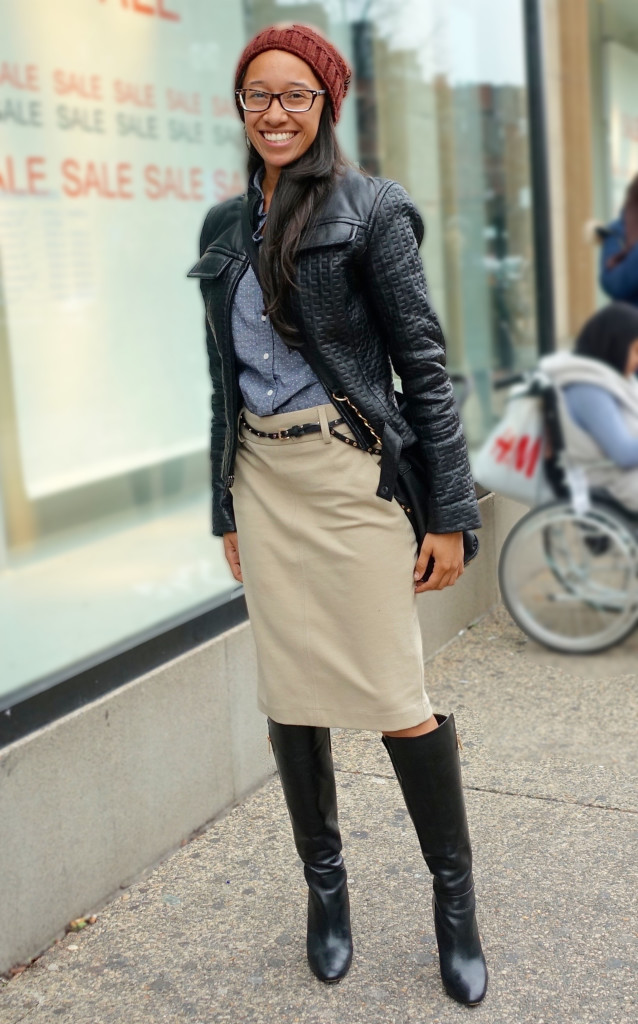 3)
While puffer coats get a lot of flak for destroying the silhouette, there's a reason they've been around forever: in extreme cold, what besides a fur coat will truly keep us snug?
With a little creativity, we can avert the dreaded Michelin look: shopping for a jacket, for example, of a short cut and vertical decorative panel (as seen below). Extra points to this woman for styling it with high boots featuring a vertical line of studs.
Even with a puffer coat of traditional cut, we can employ a few tricks to add some oomph to our look – for example, a short skirt and a long jacket (hey, isn't that a Cake song?) with tall, fitted boots.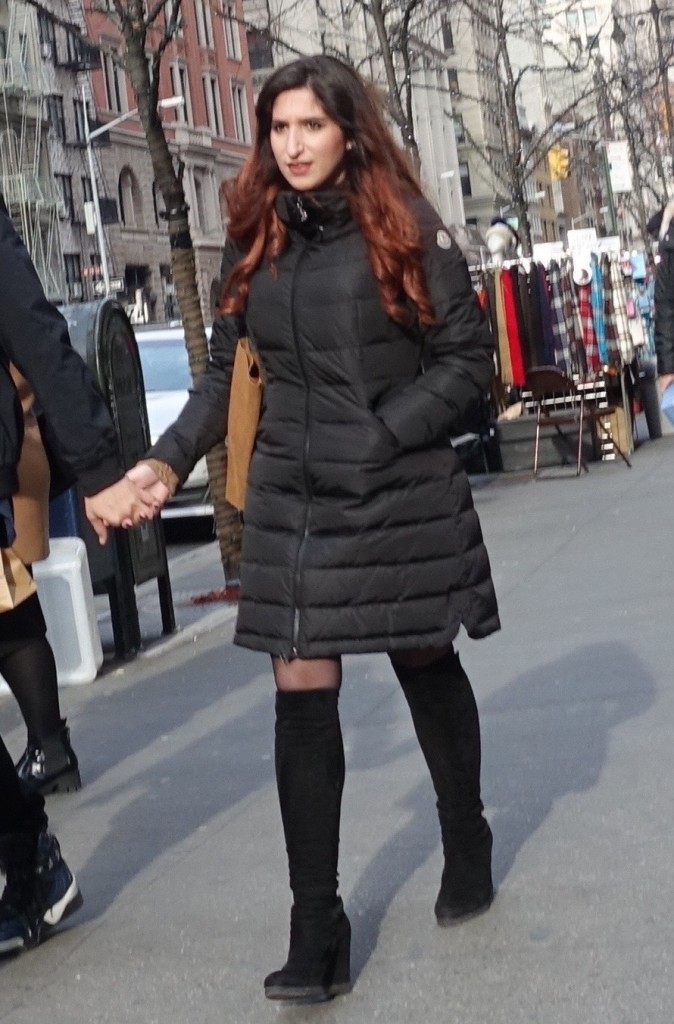 4)
I presume that a lot of us equate rubber boots with milder seasons, like fall. I was so inspired when Liliya included them in a spring-in-winter ensemble during New York's recently warm spell.
After that I still see loads of women sporting them in Boston and New York – in frigid temperatures. With the kaleidoscope of colors in which you can find a pair of Hunters, why not? They allow for a fanciful palette – like the one below – to brighten even the darkest wintery day.
5)
One of my favorite counter-intuitive looks includes a short skirt or shorts in winter. You might recall as examples, Liliya's recent shorts outfit-of-the-day or this image from our post about twinning.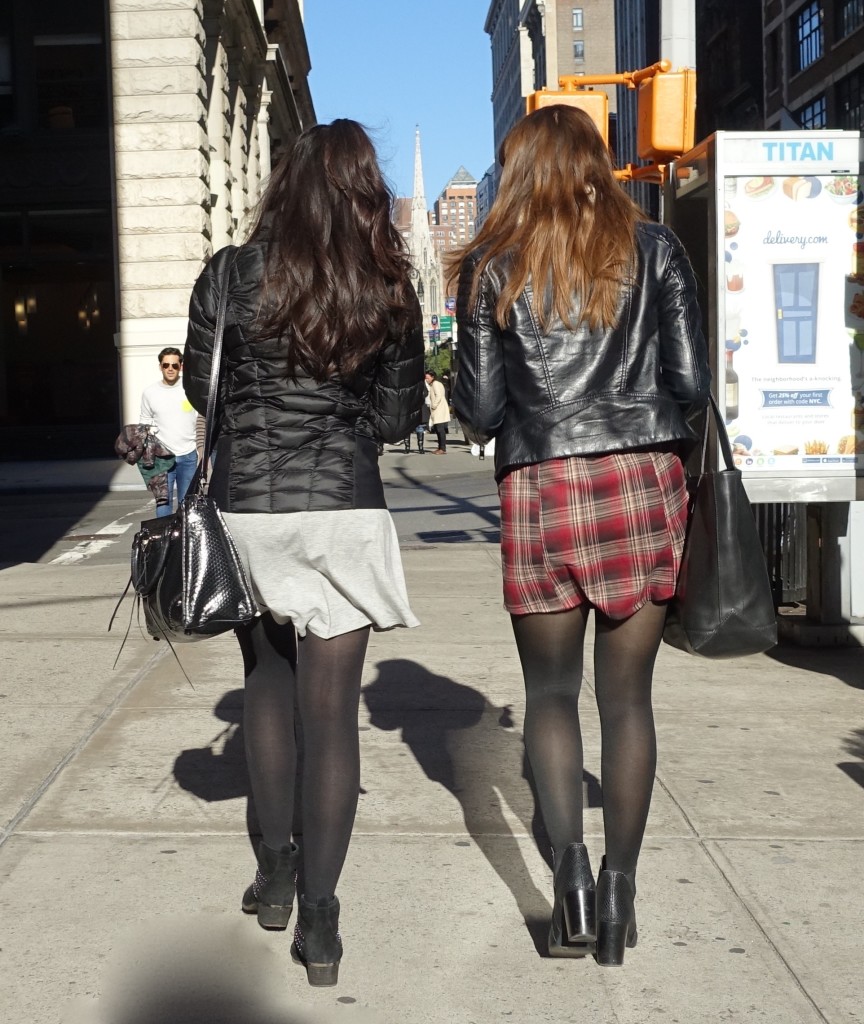 When temperatures drop, a pair of tights, toasty boots, and layering up top afford us style and comfort.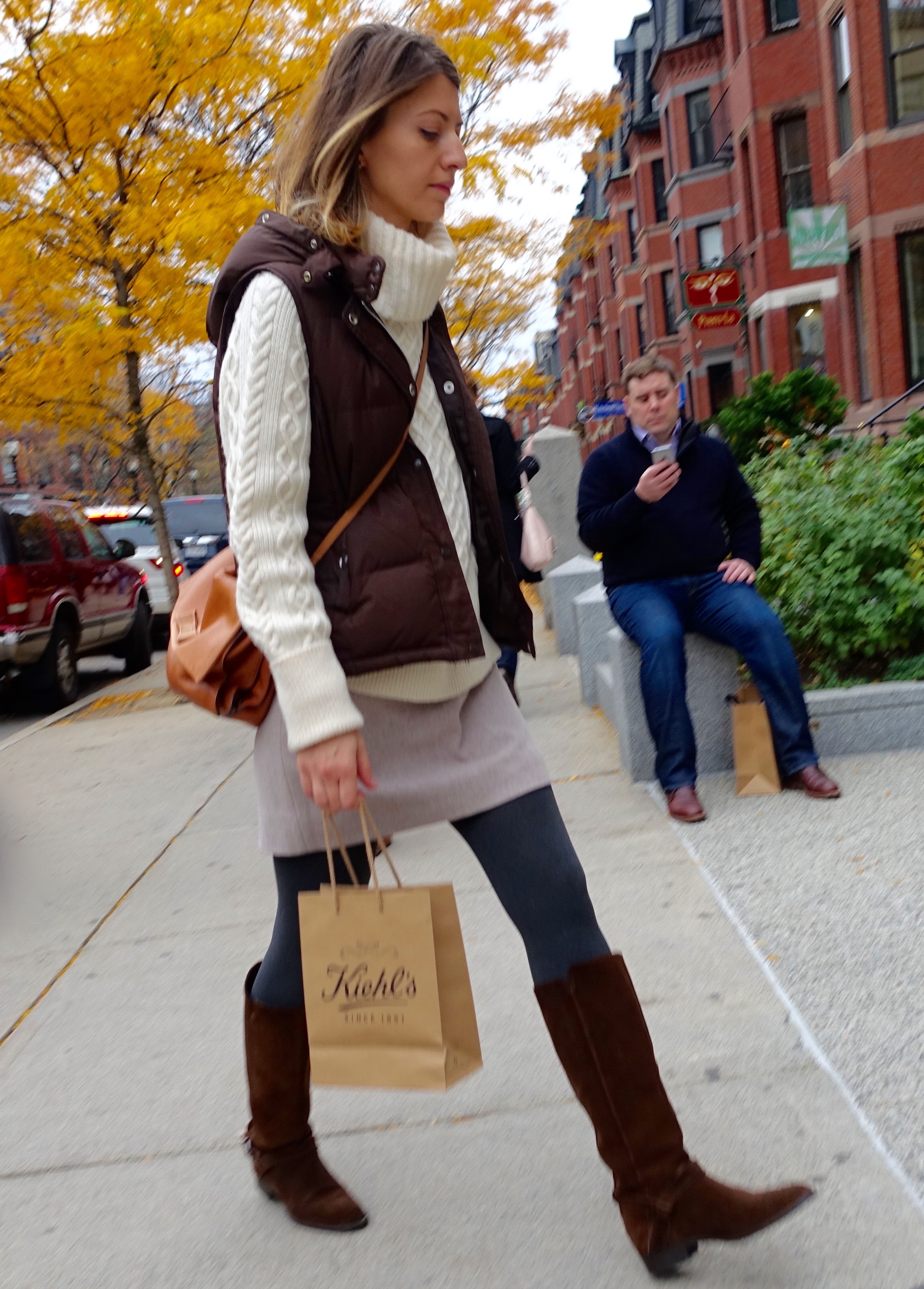 In the name of expressing our individual style, I suggest that every so often we dare to ignore the "should's" in favor of outfits that are a lot more fun. Which bit of fashion advice or convention have you ignored recently?
XO, Janea