As a man, how do you do cazh? Like a Seattelite, San Franciscan or New Yorker?
While comparing men's cazh looks for Spring in my new hometown of Seattle, Washington, former stomping grounds of San Francisco, and favorite getaway of New York City, I have noticed quite a bit of variation. I thought it would be interesting to show you some of the differences I have observed.
Let's start with dudes from Seattle. Seattle men, like the guys pictured below, tend to be casual in every sense of the word, very practical in their clothing selection – I'm guessing, to accommodate for frequent rains and cool winds. Their looks are also a bit sporty, I'm supposing, for lots of walking in that inclement weather or thanks to the sustained grunge (read "sweatshirt" here) influence in Seattle.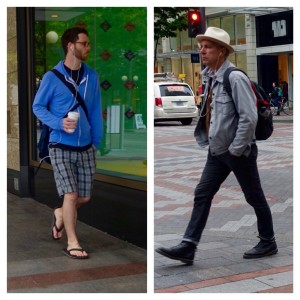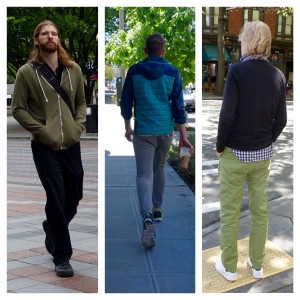 San Franciscans, like the muses featured below, are generally cazh in a slightly dressier fashion. Of course, these are my favorite examples and therefore, are undoubtedly more stylish than the typical dude. But I do detect a culture here in which there is a bit more emphasis on looking polished, perhaps even fashionable.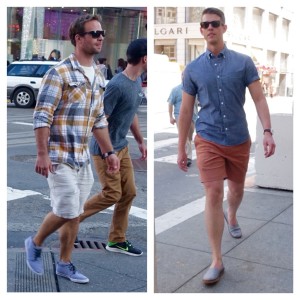 With regard to San Francisco, the equivalent to grunge might be hippy. The "Summer of Love" (read here "ponytails/buns") seems never-ending here.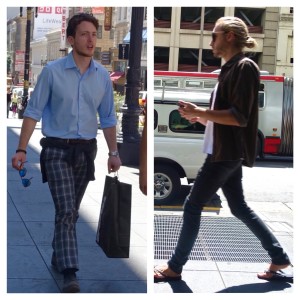 Last but in no way least, we have New Yorkers, who like the muses below, seem to do cazh with more panache than guys in Seattle and San Francisco. While donning a simple t-shirt, they might pair it with smarter shoes, and while sporting sneakers or flip flops, they will wear a somewhat fancier shirt. Their body language might be laid back and relaxed, but their clothes say, "Serious style!" Nice!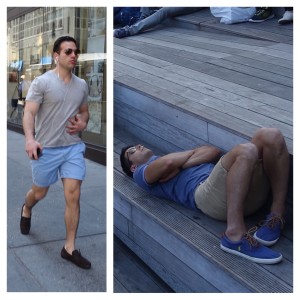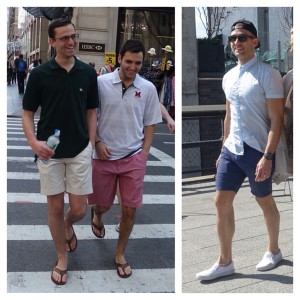 This last muse reminds me of an earlier post about high-water hems. They not only look awesome in the case of suits, in my opinion, but also work with casual attire.
Wherever you go or live, I suspect there is a particular culture for dressing cazh. Weather considerations often lead us to opt for certain garments in one place more than another, although of course, we need not go along with whatever everyone else around us does.