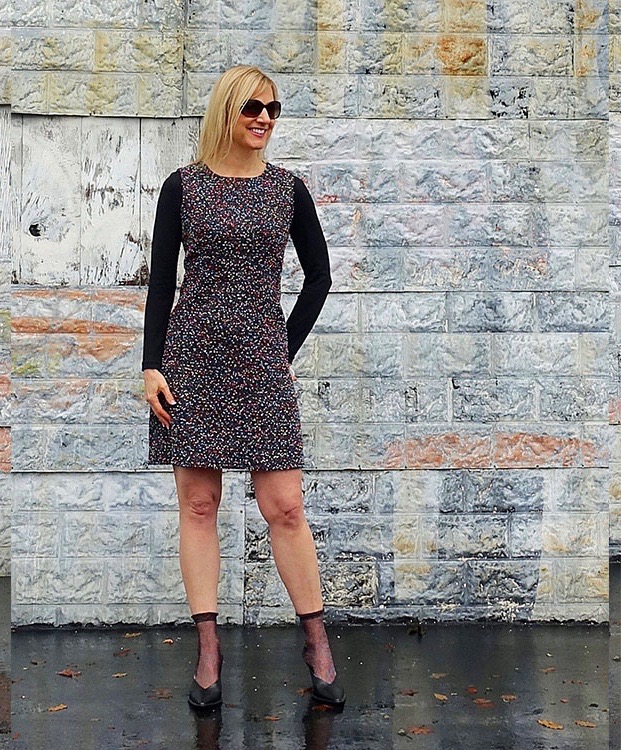 There are shift dresses, and there are sheath dresses. Here we have the shifty sheath dress.
Ever since I featured a socks-with-sandals post last fall, I've wanted to do another outfit post with ankle socks. I happen to be in love with these sparkly ankle socks, featured in my recent SALE HAUL. I especially like how they echo the way that the dress itself has all of these tiny dots of color.
Of course, the look may seem impractical right now for some of you dear readers – unless you plan a getaway to somewhere like California. But you can still file the idea in the back of your head for another month or so, right?
For the California central coast, the outfit was perfect. It's been raining, but temperatures here are in the mid-50s and seem to be climbing. Besides that, I'm wearing a wool dress up top, layered over a long-sleeved top. I could have also worn it with a thin cashmere turtleneck if I wanted a little more warmth.
Why do I say "shifty sheath"?
When attempting to describe this dress, I'm in a quandary. It looks very much like a shift dress, since it's somewhat columnar with a shorter hem.
However, the dress cinches (slightly) at the waist – a defining aspect of the sheath dress – and that shape is pronounced by a stiffer wool fabric. I suppose on a slender-legged woman, it might be roomy – as is the typical shift dress – but it is actually somewhat snug on me. 😉
I think for now, I'll call it my shifty sheath dress!
The Shoes
And while describing this look, I mustn't neglect these Stella McCartney mules. I started really noticing mules during New York Fashion Week last September. They looked so cool and fabulous on street style stars, although I instantly wrote them off as something I would probably not enjoy walking in.
During the holidays, however, I spotted these on a store rack and decided to slip them on. I was amazed – walking in them is seriously easy! And the toe box is roomy, even with those pointy toes that create the illusion of longer, slimmer legs.
And that's not to mention the architectural heel – such a chic design. I see why they were all over Stella McCartney's runway during NYFW! What puts them over the top, however, is that Stella is a champion of eco-conscious fashion.
(The style is sold out, but you can find something similarly fabulous by The Row HERE.)
Of course, in a much colder climate, I would be forced to forego the ankle socks and mules in favor of wool tights and over-the-knee boots. We do what we must! I hope you like this look with a sheath/shift dress, ankle socks, and mules.
Do you prefer a shift or a sheath dress, and what would you call this one?
XO, Janea
---